Comics / Comic Reviews / More Comics
Rip M.D.
By Leroy Douresseaux
August 17, 2010 - 13:59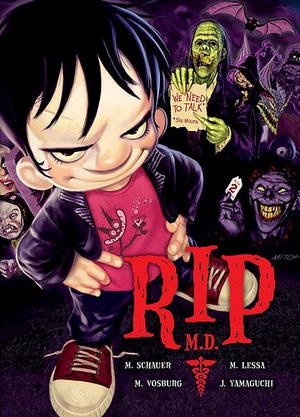 Rip M.D. cover image
Rip, M.D. is the first collaboration between, Lincoln Butterfield, an independent animation studio, who's producing the graphic novel, and Fantagraphics Books, noted indie purveyor of quality art comix and books, who is publishing it. Rip M.D. is also the debut graphic novel from Mitch Schauer, an Emmy-winner (for "Freakazoid!" in 1995) and creator of the animated series, "The Angry Beavers." Schauer wrote and penciled this all-ages adventure, while another Emmy winner, Mike Vosburg (for HBO's animated "Spawn" in 1997), inks Schauer's pencils.
This story introduces Ripley Plimpt, an 11-year-old boy whose ordinary life takes the supernatural turn for which he'd always hoped, but not in quite the way he had hoped. Ripley or "Rip" is the son of Shasta, a stay-at-home mom (apparently), and Dack Plimpt, who owns an auto repair and body shop with his brother, Rip's lovable Uncle Willert.
Since he was six, Rip has loved all-things monster – from comic books and magazines to movies and memorabilia. Rip believes that monsters are simply misunderstood creatures that have gotten a bad rap. Rip also believes that monsters exist in the real world, and he is constantly searching his home and the surrounding area (which includes a graveyard) in hopes of meeting a monster.
Two incidents change young Rip's life. First, he gives first aid to a tiny bad with a damaged wing; then, he meets a shambling corpse he befriends and names "Dead Guy." Soon, other supernatural types are seeking help from the boy who is rapidly becoming known as a "monster doctor." Meanwhile, his neighbors, the awful DeMann siblings, Pretoria and Stanley, are watching and taking note. They're about to launch a scary plot against Rip M.D.
Rip M.D. is like the marriage of Cartoon Network and horror comics (perhaps an EC title or something from Warren Publications), because it is nonsensical and kooky like an old Scooby-Doo cartoon, but also steeped in monsters, both of the supernatural and human variety, like a pre-code horror comic book.
The best thing about Rip M.D. is the lead character, Ripley Plimpt. Mitch Schauer presents his young star as completely open and honest. Both his imagination and behavior are open to new things and new ideas. He has few preconceived notions and prejudices, and he's always ready to dive into a new mystery, even if that mystery involves delving into the secrets of a monster. That's why he can be a monster doctor (and if only the human medial establishment were that open to new ideas). This is the perfect set-up: a curious, brave kid and a world of monsters. Hopefully, there is more to come, but our first appointment with Rip M.D. is pure fun.
A-
Last Updated: January 24, 2022 - 11:00