Rumiko Takahashi's Rin-ne: Volume 1
By Leroy Douresseaux
October 12, 2009 - 15:18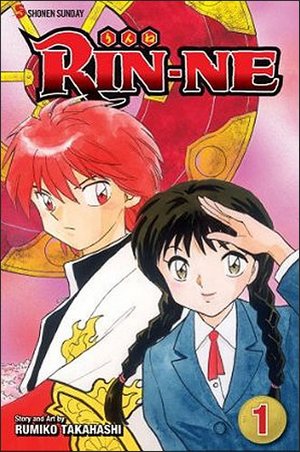 Rin-ne Volume 1 cover image
Rumiko Takahashi, the creator of such popular manga as InuYasha and Ranma½, began a new manga series last year. Now, VIZ Media brings the first tankoubon (collection) of that new series, Rin-ne, to American readers.
As a child, Sakura Mamiya had two unusual experiences that altered the course of her life. In one of them, she disappeared in the woods behind her grandmother's house. Sakura returned whole and healthy, but after that experience, she had the ability to see ghosts. Now, a teenager, she wishes those ghosts would just leave her alone. However, the sudden appearance of Rinne Rokudo, the always-absent boy who is supposed to sit next to her in class, only serves to draw her deeper into the amazing, but sometimes perilous boundary between the living and the dead.
In Rin-ne, Vol. 1, Rin-ne tries penetrate the seemingly impenetrable life of her new classmate, Rinne. Meanwhile, she finds him scamming their classmates who claim to be plagued by ghosts and spirits. Or is he really helping them and why is Sakura helping him? Will her tagging along with Rinne leave Sakura trapped in the afterlife?
THE LOWDOWN: Not being familiar with Rumiko Takahashi, I'm not sure if this teen supernatural comedy is her usual thing. On the surface, Rin-ne seems simple – a quasi-high school and domestic situation comedy with a supernatural setting and star-crossed might-be-lovers. On the other hand, there is an unsettling mood just beneath the surface of this concept that initially gives Rin-ne some moody colors. I'll reserve judgment for now, but I do want more.
POSSBLE AUDIENCE: Rumiko Takahashi fans will want to tag along with Sakura and Rinne on their forays to the afterlife.
Last Updated: August 31, 2023 - 08:12