Comics / Comic Reviews / Marvel Comics
HAWKEYE #7
By Loretta Ramirez
April 20, 2004 - 09:33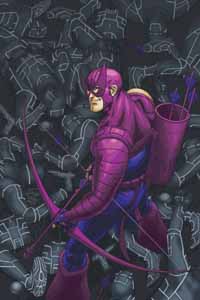 While investigating the murder of his favorite deli owner, Hawkeye soon stumbles into a riveting confrontation with the Russian mob, a surprising discovery about the victim's military past, and an awkward conflict with a close friend. In "A Little Murder: Part 1-Proletariat Knights," by Fabian Nicieza and new penciler, Joe Bennett, Hawkeye's energy and charisma skyrocket, while his series acquires a more classic superhero spirit-complete with guest appearances by Captain America and the Black Widow.
In plot, action, and dialogue-this is the sharpest HAWKEYE to date. The issue's main strength, however, is in character, as Hawkeye interacts with familiar and unfamiliar characters, such as a one-armed archer and Hawkeye's ex-girlfriend from his circus days. This ex-girlfriend promises further insight into Hawkeye's troubled past and thematically compliments the surprise appearance by the Black Widow-who swings into the story's final pages to incinerate all of Hawkeye's work and all of his cool. Also, a short sparring scene with Captain America offers a charming exchange between the Avengers.
As for the art-eyes can't open wide enough to soak in all the activity. The most noteworthy scene has Hawkeye make short work out of the Russian mob and long-time assassin, Foxfire. The archer flips through storms of bullets, pins thugs beneath trees, uses gunmen to crash open windows for him, and scampers up a bookcase with his new-and-improved deep-treaded boots. Under Bennett's pencil, Hawkeye's body is as much a weapon as is his bow.
Overall: A+
Last Updated: January 24, 2022 - 11:00