Comics / Comic Reviews / DC Comics
Challengers Of The Unknown #3
By Koppy McFad
Aug 22, 2004 - 14:43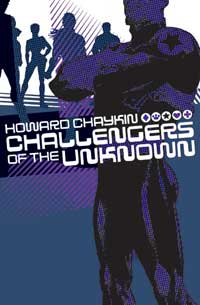 This miniseries has nothing to do with the old Challengers of the Unknown characters who have been mainstays of DC universe for four decades. Instead, it is a completely new story set in its own self-contained universe. A group of disparate individuals discover they possess extraordinary fighting and espionage skills and that they are being manipulated by some mysterious cabal that secretly controls most of the world. Sort of a souped-up version of "the Bourne Identity."

There are some engaging action sequences and a genuine mystery in this tale. But there is also a sterile, alienating tone to the whole story that keeps us from getting engaged with this colorful group of characters. In this issue, it is revealed that most of the "Challengers" come from progressive, rebellious backgrounds but then it stretches credibility by showing that they all enlisted in elite military units-- and just happened to be snatched by the baddies. Chaykin's art, while still lush and gorgeous, looks rather cramped in this miniseries with the artist overusing Walt Simonson's trick of having sound-effects as the background in a panel.

A large part of the problem is the use of an omnipresent media empire as the villain of the piece. This gimmick-- complete with segues to TV news and talk shows-- was getting old in the 1990s and it makes the whole story look rather dated in an era when genuine terrorist conspiracies are all too real.

Last Updated: Jun 26, 2018 - 9:28