Comics / Comic Reviews / Marvel Comics
The Crew # 3
By Kevin Scott
June 21, 2003 - 09:38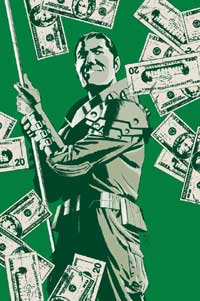 If you don't know about this book by now shame on you! Here's a little recap for you. The Crew is the new book by Christopher Priest. It features; James (Rhodey) Rhodes aka War Machine, Kevin (Kasper) Cole aka White Tiger, Danny Vincent aka Junta and Josiah X aka Justice. What you need to realise though…….. This is NOT a team book! These cats have been drawn together by one common goal and they don't exactly get along.

Issue one's main focus was Rhodey, issue two's was Kasper, issue three's is Danny Vincent. If you know about Priest, you should realise this book will hit you on soooo many levels! Don't expect to find a hero type character here. Vincent isn't exactly a nice guy, he does stuff for cash and if your willing to offer more than the next man then he's yours. Loyalty goes hand in hand with money for Vincent. This issue highlights how good Priest is. He makes you despise Vincent, but respects him for his talent. He's a slick cat with a smart mouth (Scooby says "Rotsa Ruck!") so there's jokes, but nothing to make you laugh. They're there because of the character is. The story is a continuation of issue two but not directly. When It connects, you suddenly realise how smooth Priest is and how Danny Vincent fits into the The Crew. Trust me it works, oh yes it works!

You may ask yourself who is Joe Bennet?". To be honest, who cares? All you need to know is he throws down with the pencils. My man's got skills! His skills at conveying light & dark (and I mean situations here, light = styling in a slick ride, dark = well, just check out the last three pages) are definitely on point. He really helps Priest tell a story. His pencils show intrigue, apprehension and full range of emotions. With the entire art team is doing its part and the great writing, you really have an enjoyable story.

If you like intrigue, if you like to think, basically if you like great stories go pick up The Crew!!! Don't blinker yourself to preconceptions, just sit back, buckle up and enjoy the ride. It's time to roll with The Crew baby!!!

Report Card – B (All you cats that are hating on Priest, you are REALLY missing some great reading right here)
Last Updated: September 6, 2021 - 08:15