Requiem of the Rose King: Volume 4 manga review
By Leroy Douresseaux
May 18, 2016 - 13:09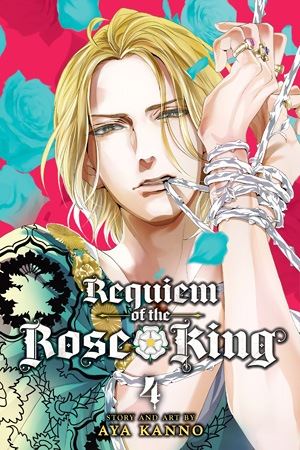 Requiem of the Rose King Volume 4 cover image
Rated "T+" for "Older Teen"
The
Requiem of the Rose King
manga is loosely based on two plays by William Shakespeare,
Henry IV
(1591) and
Richard III
(1592). Set in medieval England, the manga centers on a conflict between the
House of Lancaster
(represented by a red rose) and the
House of York
(represented by a white rose). Both covet the throne of
England
, and their struggle is called the "War of the Roses." Into the house of Richard of York is born a third son, a sickly child that he names "
Richard
" after himself. Richard dreams of his family ascending to the throne, a throne that will one day be his.
As
Requiem of the Rose King

, Vol. 4
(Chapters 13 to 16) opens, Richard is beset by another of the bad dreams which haunt his sleep. Richard's brother, King Edward, sends him into the care of the
Earl of Warwick
, an ally of the Yorks. There, Richard meets Warwick's younger daughter,
Anne Neville
, who becomes smitten with him.
Meanwhile, Warwick remains angry over Edward's marriage to
Elizabeth Woodville
, secretly a Lancaster ally, and decides that it is time to dethrone his king. Elizabeth prepares to give birth to Edward's child. Also, Margaret, wife of the former
King Henry VI
, seeks help from the French.
THE LOWDOWN: The
Requiem of the Rose King
manga began as a strange thing. It is a historical drama steeped in omen and portents, and the lead character is obviously... an unusual physical specimen.
Requiem of the Rose King Volume 4
shows series creator
Aya Kanno
revealing more about Young Richard. Increasingly, at least to me, this series acts in defiance to gender roles. Elizabeth and Margaret play the roles that are expected of them as women, at least outwardly, while seizing the reigns of fate, for themselves, their children, and obviously, for their country. Meanwhile, Richard is an agent of chaos, his/her (or her-his) gender identity, ceasing fate in order to make a new reality. Once you start reading Requiem for a Rose King you won't be able to stop.
POSSIBLE AUDIENCE:
Fans of Aya Kanno will want to try
Requiem of the Rose King
.
A
Rating: A /10
Last Updated: August 31, 2023 - 08:12