Missing - Kamikakushi No Monogatari: Volume 1
By Leroy Douresseaux
August 18, 2007 - 11:21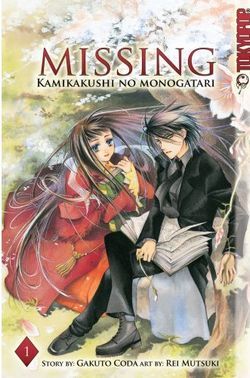 Thanks to Amazon.com for the image.
At Seisou Graduate Academy Auxiliary High School, there is a
Literature Club
. That club has a star attraction. It's
Kyoichi Utsume
a.k.a. "
His Majesty, Lord of Darkness
," and club members would rather discuss their dark and compelling friend than books. When His Majesty shows up at a club meeting with a girlfriend (named "
Ayame
"), his fellow clubbers are shocked because His Majesty Kyo had previously spoken so badly of dating and love. When Kyo suddenly disappears, his friends start to believe that it has something to do with Ayame. As they dig deeper, they discover dark plans by Kyo and something even more horrifying about Ayame.
THE LOWDOWN: It's not often that a comic book can be described as atmospheric, but Missing – Kamikakushi No Monogatari, Vol. 1 certainly has great atmosphere. The chills and scares practically seep from the pages. Based on the series of novels by Gakuto Coda, Missing the manga is a mystery tale that traffics in creeping dread with the threat of the "other side," where the dead live always being around the next corner. Manga-ka Rei Mutsuki balances mood, setting, and character using variety in the way he draws the scenes. He gets the right look for the right moment.
POSSIBLE AUDIENCE: When I receive a review copy of a manga (as I did with Missing), I review it with the hope that I'll want to read more even if have to purchase any remaining volumes of the series myself. I plan on finding more Missing (with the next volume due at the end of this year), and I think lovers of supernatural mystery tales will also want to follow this.
B+
Find Missing at the Amazon aStore.
Last Updated: September 6, 2021 - 08:15