Another Xbox 360 Bites The Dust
By Eli Green
August 18, 2008 - 13:30
1:00 a.m. Eastern Time on Friday, August 15, 2008 marked the downfall of our Xbox 360 Elite console. Our console, which had performed without any major issue since we originally set it up in late October of last year, simply did not start up. The system had even been working that morning, showing no signs of any problems or symptoms of a pending system failure. Alas, I went to turn on the system, ready to play some Xbox Live Arcade games for a bit, only to be greeted by three portions of the console's Ring of Light flashing with an ominous red glow.
Photo taken by Russel Bremner
With the knowledge that the system had been used earlier that day without any problems, I figured it was just a faulty start, so I shut the system and pressed the power button once again, to begin the boot process once more. I was, again, greeted by three flashing red lights, and knew that this could only be bad news. For those readers who already know me though, you know I'm not ready to give up that easily. I unplugged the system and waited the half hour, until 1:30 a.m., to plug it back in and see what happened. The sheer fact that I'm writing this article should give you a clear hint as to the outcome of that attempt.
No, nothing seemed to work, and so I called it a night and left things until the next morning. The system was still dead in the morning, but I had official troubleshooting guides to look over, to see if there were any remedies to the issue which I may have missed the night before. I tried everything Microsoft had to offer, but nothing worked. I was out of options. It was time to put in a replacement request. I am currently in the process of boxing up the console, to ship it in for Microsoft to replace. Replacement time is approximated at two to three weeks, so we will be without a console for at least a little while.
For me this, once again, brings up the issue of manufacturers and publishers not making the effort to make sure that their products are up to standard and are actually reliable. A simple search of "xbox 360 failure rate" or "xbox 360 failure rate 2008" (without quotes) turns up a number of articles about a recent report, from February of this year, compiled by consumer electronics warranty company SquareTrade, putting the failure rate of Xbox 360 consoles at a ludicrously high 16 percent. That number is considerably higher number than the industry average of 3%, which Microsoft was claiming the failure rate to be at that time. Thankfully, SquareTrade's number is far more optimistic than the 30% some retailers were claiming last summer, but it is still unacceptable from both a consumer and manufacturing standpoint.
Clearly, if a product's failure rates are so high, there is a problem somewhere in the manufacturing process of that product. I have said similar things about the Rock Band peripherals, and I stand by my words. In Microsoft's case though, there is a bit of a difference. Microsoft has made some changes to the Xbox 360 warranty, extending it to three years from the purchase date for any system failure that is indicated by three red lights on the console (the Red Ring of Death).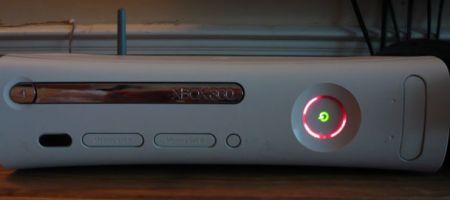 No, not our 360
Concerning Xbox Support, we haven't had to deal very much with Microsoft's support staff, especially compared to our trials with the Rock Band support team, so we can't make any conclusions about their level of service yet. We had heard some pretty bad stories, including Jeff having to wait five whole months for Microsoft to do a simple replacement for a game disc, but we would understand those kind of situations as rare cases. We'll have to wait and see how our Xbox support experience goes until we come to our own conclusions. You'll be able to draw your own conclusions soon enough though, as we're filming the whole process of the return – the replacement request call, prepping the box for shipping and the replacement – so you will know what to do in the event that you have to go through such a return.
We'll wait until we get our replacement system to put the video(s) online, but we have one thing to note at the moment, for people who may be looking to start a replacement request for an Xbox 360 that has the Red Ring of Death. The time between the placement of the request and the receipt of the email with your shipping label can be anywhere between one hour and a couple of days, so don't get too worried if you don't find the email in your inbox immediately. Once your console is sent in, you can track your replacement with your shipping number, so keep that handy if you get curious about its status.
I should probably get this box to on its way to UPS. We'll keep you updated on the situation as things go on.
Last Updated: August 31, 2023 - 08:12