Red Hot Chili Samurai: Volume 1
By Leroy Douresseaux
April 13, 2010 - 10:28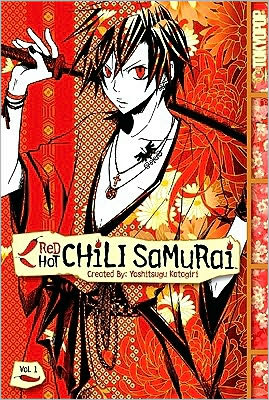 Red Hot Chili Samurai Volume 1 cover image is courtesy of barnesandnoble.com.
Action/Comedy; Rating: "OT" for "Older Teen-Age 16+"
The action comedy manga Red Hot Chili Samurai has an interesting spin on the samurai comedy. The lead character loves chili peppers so much that he can't do without them, and not having them makes him extremely weak.
Kokaku Sento is known for the crane tattoo on his upper chest/lower neck and also for his crime fighting activities, in the service of his father, The Hanshu. With the help of his bespectacled pal, the samurai Inaba Ento; the girl of action, Mimasaka Ran; and the ninja, Shou, who communicates using signs and placards, Kokaku is taking a bite out of crime and his spicy peppers.
In Red Hot Chili Samurai, Vol. 1, Kokaku and company take on the Western Gambling Den and its scams that ruin customers. Then, it's a trip to the red light district and a bit of cross-dressing for Kokaku in order to uncover a devious prostitution ring. Later, Kokaku meets his rival, Shikki, the Turtle, and also helps a boy with bullies. And finally, readers get a peak at Kokaku as a boy samurai-in-training.
THE LOWDOWN: Because it offers something different, Red Hot Chili Samurai won't make readers declare, "Not another samurai manga." Its bawdy scenarios and rapid fire banter make it something of a screwball comedy by way of martial arts action. Red Hot Chili Samurai has a sitcom structure and a solid, but stable concept, and creator Yoshitsugu Katagiri has a willingness to be anachronistic. That will allow this series to ply its coarse and funny trade over many and varied scenarios.
POSSIBLE AUDIENCE: Readers who want samurai comedy will like Red Hot Chili Samurai.
B+
Last Updated: August 31, 2023 - 08:12