Reborn!: Volume 4
By Leroy Douresseaux
July 7, 2007 - 06:43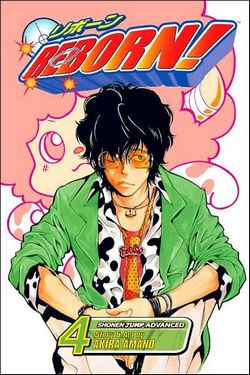 Thanks to barnesandnoble.com for the image.
Junior high school student Tsunayoshi Sawada AKA
Tsuna
is a loser and a failure at socializing and sports. When super toddler
Reborn
arrives on his doorstep, Tsuna learns that he is destined to be the 10th boss of the Vongola crime family. Reborn is a pint-sized, gun-toting Mafia hit man who tutors him on how to be a Mafia boss.
In Reborn!, Vol. 4, it's a family reunion as Bronco Dino, the 10th generation boss of the Chiavarone Mafia family pays a visit. Arriving with his large squad of goons, Dino has come to pay his respects to Tsuna. He's also a former student of Reborn's, and his weapon of choice is the whip. When Lambo, the troublemaking toddler and Reborn rival, indiscriminately tosses grenades into Tsuna's room, it's Dino and his whip to the rescue. Also, the little crime family takes on the three "Crime Brothers," after they steal Tsuna's mother's purse. The Crime Brothers, the baddest hoods around, just don't know the pain they're in for.
THE LOWDOWN: Creator Akira Amano continues to grow the cast of this increasingly funny manga. Despite the continual addition of new characters, most of them weird or at least eccentric, the emphasis of Reborn! is laughs. While this brand of comedy can be called slapstick, in many ways Reborn! is a domestic comedy – a cartoon version of the mafia plopped right down in the middle of an idealized version of suburbia. However, Reborn! is more "Leave it to Beaver" than Goodfellas, and that's alright..
FOR READERS OF: Fans who go for the bizarre humor concepts that make up so much of comedy manga will find in the kooky family of Reborn! a curious delight ready to keep them chuckling.
B+
Last Updated: May 19, 2020 - 12:25