Reborn!: Volume 3
By Leroy Douresseaux
Jul 4, 2007 - 10:37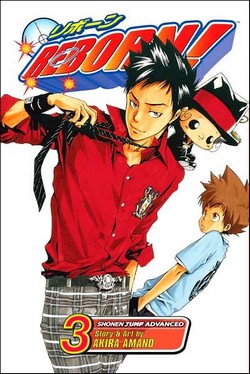 Thanks to barnesandnoble.com for the image.
Junior high school student Tsunayoshi Sawada AKA
Tsuna
is a loser and a failure at socializing and sports, but Tsuna is also destined to be the 10th boss of the
Vongola
crime family. He learns this when a toddler arrives at his doorstep, but this isn't any ordinary baby. Named
Reborn
, he is a gun-toting Mafia hit man/tutor, and it's his job to train Tsuna to be a Mafia boss.
In Reborn!, Vol. 3, it's "Festival Day" at Namimori Junior High, a day of competitive sports competition between three teams composed of students from all classes. Festival Day climaxes with "Bodaoshi," where the three teams try to knock their opponents' "general" from a tall poll, but when Tsuna's team is suspected of cheating, the other two teams form an alliance and all heck breaks out. Meanwhile, a new toddler assassin, the big-headed baby, I-Pin, shows up on Tsuna's doorstep – looking to assassinate our hero.
THE LOWDOWN: Creator Akira Amano treats Reborn! as if it were an episodic comedy, with each chapter being a stand alone tale, but Amano manages to give each chapter at least one scene that is a comic gem. The cast continues to grow with an expanding line-up of eccentrics and weirdoes that fit right in with the main cast. For all its righteous comedy, Reborn! also features high-quality art from Amano, whose cartoon figure drawing (especially the faces) is superb.
FOR READERS OF: Although technically an import or foreign comic book, this is still one of the best humor comics available on the American comic market, and readers will find themselves delighted by how much comedy Amano can squeeze out of this concept.
B+
Last Updated: Jun 26, 2018 - 9:28