Reborn!: Volume 9
By Leroy Douresseaux
Jan 5, 2009 - 11:21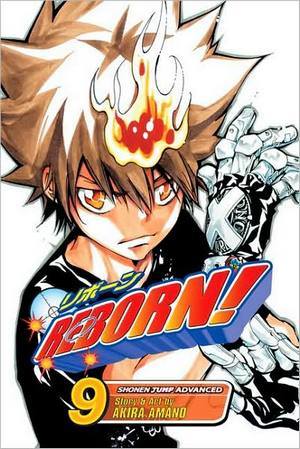 Reborn 9 cover image is courtesy of barnesandnoble.com.
Rated "T+" for "Older Teen"
Tsunayoshi Sawada AKA "Hapless Tsuna" AKA "Loser Tsuna," was just another high school failure at the manly arts of socializing and sports. Then, Reborn, a toddler assassin, comes knocking at his door and informs Tsuna that he is destined to be the 10th boss of the Vongola crime family, and Reborn's got the magic bullets to make a mob boss out of Tsuna.
In Reborn!, Vol. 9, Tsuna, Reborn, and members of Tsuna's crime family, including Hayato Gokudera, Bianchi, and Kyota Hibari, battle a powerful gang of assassins that has taken exception to Tsuna's candidacy for the head of the Vongola family. Finally, Tsuna faces the ringleader, the murderous and supernaturally powerful Mokuru Rokudo. Boy, could Tsuna use one of Reborn's Deathperation Shots, but there's only one left!
THE LOWDOWN: So far, Reborn! has mostly been a situation comedy. Each chapter, with the exception of an occasional two- or three-part tale, was a self-contained comedy built around some kind of situation. Creator Akira Amano constantly introduced new additions to Tsuna's "family," each one possessing a special power, ability, and/or quirk that created nothing but trouble for Tsuna.
However, the stories that make up the entirety of this ninth volume, as well as portions of the eighth volume, are in line with action-oriented shoujo manga (boys' comics). This is a fight comic, filled with wild man-to-man battle scenes and strange powers, that is somewhat similar to the battles in Tite Kubo's Bleach, but on a smaller level. It's an interesting twist from the usual manic comic fantasy of Reborn!, and Amano and his staff slightly twist their drawing style to fit the change of pace. It's fun, but I want my old Reborn!
POSSIBLE AUDIENCE: Regular fans of Reborn! will enjoy this pivotal volume.
B+
Last Updated: Jun 26, 2018 - 9:28