Reborn!: Volume 7
By Leroy Douresseaux
Apr 5, 2008 - 14:31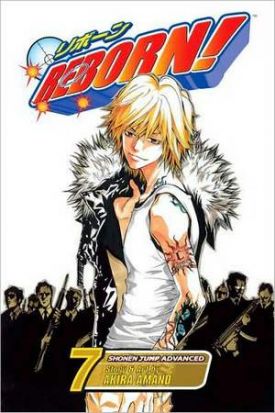 Thanks to barnesandnoble.com for the image.
Tsunayoshi Sawada
AKA "Hapless
Tsuna
" AKA "Loser Tsuna," is a high school failure when it comes to socializing and sports. That all changes when the toddler assassin,
Reborn
, comes knocking at the door and informs Tsuna that he is destined to be the 10th boss of the
Vongola crime family
. Tsuna, of course, rejects his destiny, but with his magic "
deathperation
" bullets, Reborn will make a boss man out of Tsuna, yet.
In Reborn!, Vol. 7, Tsuna is targeted for assassination by a rival family, and the only one of Tsuna's crime family who can see the assassins is the hot-tempered explosives expert, Gokudera Hayato. Hayato, however, has been physically transformed into a toddler like Reborn, and no one listens to kids – even the target of the assassination himself.
Later, it's hot fun in the summertime when Tsuna and the gang head to the beach, but a group of lifeguards that are more like a gang of bullies threatens to ruin a vacation when they challenge the challenged-swimmer Tsuna to a race. It's Obon (the Japanese Buddhist festival that honors deceased ancestors), and Tsuna finds himself facing off with a ghost who wants to take him to the "other side."
THE LOWDOWN: Although Reborn! has an overall story arc – the admittedly comedic journey of Tsuna to mafia boss – the series remains essentially a situational comedy and ensemble comedy. Each chapter is a single episode, although a few stories last two of three chapters. Like Takashi Hashiguchi's Yakitate!! Japan, Reborn! thrives on a large cast of eccentric characters. The treat is that creator Akira Amano can come up with so many variations on a theme. Comedy probably hasn't done so many hilariously weird things with a cast since "Seinfeld" disappeared.
POSSIBLE AUDIENCE: Manga readers who want comedy will find it here.
B+
Last Updated: Jun 26, 2018 - 9:28