RalΩGrad: Volume 4
By Leroy Douresseaux
May 31, 2009 - 21:32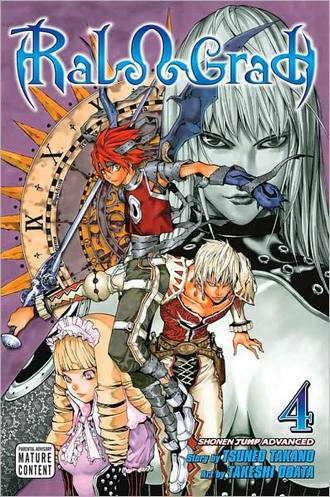 Ral-Grad Volume 4 cover image is courtesy of barnesandnoble.com.
Rated "T+" for "Older Teen"
Shadows, creatures from Le Noir, the World of Darkness, have trespassed into the world of men. These demonic beasts do not have solid bodies, so they take humans as physical hosts, which allow them to live in the world of light. The worst is Opsquria, known to her kind as "Lady Bira." She only enters the bodies of beautiful girls, feeding on their life energy before casting them aside for new hosts.
When Ral was born, a powerful Shadow Dragon known as Grad emerged from his infant body and lay waste to the land. Ral was locked in a cage of darkness for the first 15 years of his life as way to contain Grad. Then, the Kingdom of Spaelite came under attack by the Shadow hordes, and Ral & Grad were released. The Kingdom hopes that Ral & Grad would fight for them, and that Mio, the woman who tutored Ral during his imprisonment, has taught him to be human.
RalΩGrad, Vol. 4 (entitled Friend) closes out the series. Ral gets a little help from his friends. The most powerful is Ganette; he is known as the "Invincible Swordsman" and his Shadow is Gaila the white tiger. Ral & Grad take on Opsquria. However, they must first face the monstrous Black Rhinoceros. Only Grad's "The Flamme Bleue" can stop him, but using it will make Grad vulnerable to Opsquria's destructive powers. Now, Ral and Grad may have to make the ultimate sacrifice.
THE LOWDOWN: While Takeshi Obata is best known as the artist of the hugely popular manga series, Death Note, his marvelous work on RalΩGrad is some of the best comic book art in recent memory. It's like a union of Michael Golden, Art Adams, and Jim Lee, and the art is more than reason enough to buy this series. With exquisite costume and creature design, this is comic book art as visual splendor.
The narrative as written by Tsuneo Takano is also good, and is a riff on action/high fantasy like Dungeons & Dragons, with some similarity to the shonen manga, Dragon Drive. But the art steals the show. Buy this for the art!
POSSIBLE AUDIENCE: With its edgy, nonstop violence, RalΩGrad will sate the bloodlust of young male shonen manga readers.
B+
Last Updated: August 31, 2023 - 08:12