Comics / Manga / Yaoi Manga
Punch Up! Volume 4 yaoi manga review
By Leroy Douresseaux
April 10, 2013 - 16:16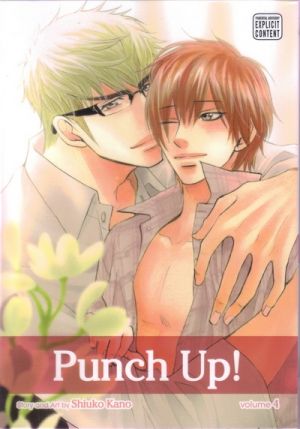 Punch Up! Volume 4 cover image
Rated "M" for "Mature"
Punch Up!, the yaoi manga series from creator, Shiuko Kano (the creator of Play Boy Blues), comes to an end. The series focuses on Maki Motoharu, an unpredictable architect, and his boyfriend, Kouta Ohki, a 19-year-old, foul-mouthed, young ironworker who has fashion model looks. Yaoi manga is a subset of boys' love manga (BL) and features explicit depictions of sex between male characters.
At the beginning of Punch Up! Volume 4 (Acts 10 to 12), a coworker finds Motoharu sleeping on a couch in his office. Why is Motoharu sleeping in his office rather than in his own bedroom?
Kouta is currently suffering amnesia because of a construction accident, and now, he has somehow regressed mentally to the person he was as a 15-year-old. Kouta moves in with Motoharu again, and, after some difficult going, the two grow closer. Motoharu avoids sleeping at home, lest he have sex with Kouta. Does Kouta even want to be intimate with Motoharu? The (former?) lovers will have to learn to understand each other again before they can have some hot sex, again.
THE LOWDOWN: If Brian Michael Bendis wrote yaoi manga, perhaps, he could write more dialogue – from introspective soliloquies to elongated conversations – than Shiuko Kano does in the three chapters that make up this final volume of the Punch Up! yaoi manga series. Bendis wouldn't pass Kano by much, though.
However, this isn't empty talk. After little more than 150 pages, it leads to a happy ending, but does so in the most interestingly round-about way. Honestly, I could read another volume of these laser-focused conversations between two characters. Don't worry, there are sex scenes. Three short, bonus stories are not only explicit, but they are also pure, scatological humor. Some of it might make even veteran yaoi readers blush.
POSSIBLE AUDIENCE: Readers looking for intense romance and character drama with their boys' love lovin' will want to Punch Up!
Rating: A- /10
Last Updated: September 6, 2021 - 08:15