Comics / Manga / Yaoi Manga
Punch Up!: Volume 1 SuBLime yaoi review
By Leroy Douresseaux
September 16, 2012 - 16:55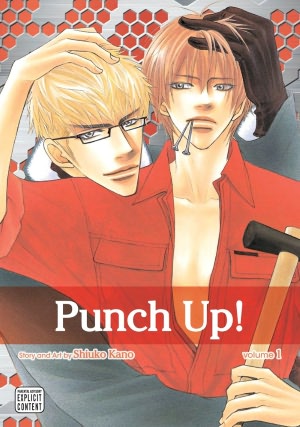 Punch Up Volume 1 cover image is courtesy of barnesandnoble.com.
Rated "M" for "Mature"
Punch Up! is a yaoi manga series from mangaka (creator) Shiuko Kano, the creator of Play Boy Blues. The first volume focuses on an unpredictable architect and a construction worker with a fashion model's looks. Yaoi manga is a subset of boys' love manga, which features explicit depictions of sex between male characters, and Punch Up! definitely features explicit sex.
At the beginning of Punch Up! Volume 1, architect Maki Motoharu breaks up a fight at a construction site. One of the combatants is a 19-year-old, foul-mouthed, young ironworker named Ohki Kouta. Motoharu takes notice of the hunky, well-toned young hothead. He gets a big surprise when he discovers that Kouta found his lost cat, Shinobu, whom Kouta has named "Nyanta."
When Motoharu learns that Kouta's kind act of saving his cat caused Kouta to be evicted, Motoharu offers to let Kouta live with him for until he finds another place. Before long, the new roomies are playing grab-ass, but Motoharu's fickle ways confuse Kouta. Add old boyfriends and rivals like Ryoji Misonoh, Junsuke Aki, and Shinobu Hishiya, to the mix, and love cannot blossom. Can Kouta the stray cat find love in a relationship with a tomcat like Motoharu? Plus, the bonus short story, "Sweet Train," finds Aki and Hishiya trying to enjoy a love train.
Punch Up! Volume 1 is a conflict-driven narrative. Both Motoharu and Kouta have past affiliations that cause stress and strife in their relationship. As I read this story, I was sure that at any time I turned the page, I would come upon a break-up scene. The tension that the conflicts and old boyfriends create, however, does lose its starch towards the end of the story, but that is mitigated by the sex scenes.
The characters seem to live by the creed, "Let's have sex, even if you did just hear me propositioning an old lover." The depictions of sex are hardcore, but that fits with the story perfectly. The young men in Punch Up! Volume 1 are pretty, but their rough personalities fit the story's hard hat setting.
SuBLimeManga.com
Rating: A- /10
Last Updated: September 6, 2021 - 08:15