Comics / Comic Reviews / Marvel Comics
THE PULSE #2
By Koncise an out :)
April 16, 2004 - 09:59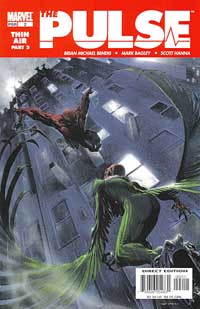 J. Jonah Jameson's Daily Bugle has been suffering from low sales. He's taken on Jessica Jones to work with Ben Urich and Kate Farell on a new supplement about Superhero's. He wants a big story, so maybe a dead woman in the river could be a good lead!
We go on a journey in search of a story, a story Terri Kidder needs to keep her job and to help her redeem herself in the eyes of J. Jonah Jameson. Kat Farrell finally makes her appearance as well. The one thing that was strange about this issue was the characterisation of Kat, it was as if she had never met Ben Ulrich before, which kind of negates Deadline.
Bagley shows his skill in the first three pages of this issue. The first page is a shot of Terri Kidder, which shows her anxiety. Next is the office, which has that feel of hectic hustle and bustle. Then there are loads of different headshots of Jonah and all of them capture different aspects of his rambunctious nature. All of this fits in perfectly with Terri's narration and is rounded off with a shot of Robbie Robertson that shows him as the picture of serenity.
Report Card - C
Last Updated: August 31, 2023 - 08:12