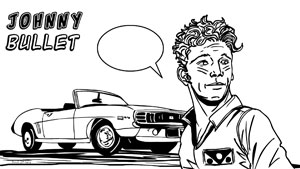 Knowledge
Local Comic Book Industries
By Herve St-Louis
October 11, 2007 - 08:33
Industry pundits and comic book enthusiasts often ask how the comic book industry can be revitalized and introduced to new readers. While most theories focus on publishing, contents generation, sales and distribution, there is one area that is mostly overlooked but which is easy to foster and influence, the local comic book industry in your community.



Like all national and international industries, comic book publishing is first grown locally. While large events, like the San Diego Comic-Con exist and draw enthusiasts from around the world, the easiest way to force local comic book readers to come out and mingle with others with similar sensibilities is through local events.


Local events offer advantages allowing people from a common community and related areas to network and exchange. There are two main back bones to your local comic book industry.

The first are the comic book shops, scattered along the locality and with often years of experience in dealing with local enthusiasts and creators. They offer the first window and to the comic book industry to most people interested in comic books. When localities have several stores, they compete with each other and try to offer goods and services different from one another to attract specific market shares and differentiate themselves from one another.

Comic book stores personnel thus, are the ground workers that are best positioned to work throughout their communities. However, there needs to be a catalyst to solidify this entire community of comic book enthusiasts from time to time. That's why comic book conventions are the other main local comic industry vectors. Whereas a local store may have a book signing, such events are best held when comic book conventions are held concurrently. Comic book stores can benefit from the increased awareness of the comic book events in the public.



There now seems to be a well-organized market for comic book conventions throughout North America. These conventions, which can be as large as the San Diego Comic-Con or small flea market-like operations, offer a good opportunity for local comic book enthusiasts to interact with their community, while being introduced national personalities, such as creators promoting their books. The main challenge of comic book conventions is that they should reach their local audience. For example, in September 2007, there was something called the Calgary Comic-Con. This author lives in Calgary, but only learned about this event after it had passed. Lack of proper promotion made me miss this event which normally I would have attended.


There are several dealers who travel throughout North America selling their comic book related goods at various comic book conventions. These add to the flea market aspect of comic book conventions which attract a particular type of comic book consumer looking for a good deal that often cannot be offered locally. At the same time, it allows comic book stores to remind potential customers of their presences and try to grab market shares from one another. While this type of activity is essential, comic books should not be the only products on display in local conventions.

Obviously, most marketers and vendors have long understood that related goods, such as action figures, posters, props, DVDs and apparel make a difference in their bottom lines. So goods inspired from comic book industry properties are often on hand to increase the sales potential of comic books. While this exchange is healthy for the industry, it does little to recruit new potential comic book enthusiasts.

This author believes that to best recruit and foster a local industry, comic book convention organizers must ally themselves with other related industries. While it is normal to see Star Trek and Star Wars enthusiasts at comic book conventions, the potential market that could be interested in attending a fair is larger than science fiction enthusiasts. Comic book conventions are notorious for not being family friendly. Although many males enjoy seeing women dressed as their favourite heroines, this is not always a family friendly affair.

Comic book conventions should develop children friendly playgrounds where dad and mom will be glad to bring their kids, to while thoroughly indoctrinating them to the ways of the Green Lantern Corps! Although I have seen many strollers at conventions, I have yet to see a dedicated area where children could play with mascots, other kids or even receive official comic book reading starter kits.



Most annoying is the lack of representation of local municipal libraries at most comic book conventions. One would think that organizers would jump at the occasion to invite local institutions, who like comic book stores, are important in providing reading contents to their local communities. For example, many libraries now hold important stock of mangas and popular books such as

Harry Potter

. Interests in such properties also breach the traditional gender barrier by appealing to girls. Why exclude such an important potential core constituent to the comic book industry?

Other important players missing at the table are local gaming organizations, gaming retailers and film festival representatives. Many cities have gaming chapters where video game enthusiasts compete with one another. As for local video game retailers, they often function in similar ways to comic book stores, but with a slightly different industry. Many feel that video games are direct competitors to comic books. This is a zero sum game vision that exclude cooperation and building on common grounds. If video games are so threatening to comic books, perhaps it's because their core potential market overlaps tremendously with that of the comic book industry. If there is likelihood that a video game enthusiast may be interested in knowing more about comic books, why not make it easy for them, by inviting local gaming clubs and merchants to host a recruiting drive during a comic book convention?


The main advantage of local comic book conventions is price. They are mostly cheap enough to attend, while offering the benefit of time saving, by being local events. No need to book an expensive hotel for several night and plan on eating out while attending a local comic book convention. However, the price must also be inviting. For example, offering free entrance to children under seven and price reductions to older kids and seniors is a good way of attracting a new crowd. Why should seniors be targeted with special discounts? While many will say that this is hardly the targeted market of the comic book industry, the presence of seniors may encourage more parents to make a comic book convention a family activity. As the baby boomer generation is aging, many of them, hardcore comic book fans will soon appreciate being able to attend a convention with their grand children.


Any comic book convention must be a place where creators can easily interact with local enthusiasts. This, for many convention attendees is the bonus and the main reason why they attend conventions. One way comic book conventions have attracted potential attendees is through generous lists of industry "big names," special book signing sessions and question and answer periods. While a good way to go about reaching a specific part of the potential comic book audience, not all potential comic book convention attendees are drawn to this. Outside of the comic book industry, not many people have heard of Geoff Johns. So using his name to attract the girl friend of a comic book enthusiast, who reads few comic books, will not be good.

Just like when I suggested specific play grounds for kids, I believe that a good comic book convention should offer constructive workshops that will attract another type of attendee and perhaps convert them into regular comic book enthusiasts. Something like a workshop on comic book colouring or script writing for theater, film and cinema will attract a different audience, who is not interested in the flea market part of a convention or getting a book signature by a creator. Many people like to gain experience and training. Short workshops fulfill this need and allow local media schools to also become potential stakeholders in the local comic book industry.

The best way for the comic book industry to thrive, is to have several stakeholders, like the local film festival, trying to promote upcoming screenings, the local public library, trying to fulfill its mandate of promoting reading awareness, the local gaming competition trying to recruit new players or the local community college trying to recruit students to its multimedia programs. All these various stakeholders, who are not traditional comic book supporters, will be very interested in promoting a local comic book event in their venues.



For example, the cross promotion potential between a local film festival and a local comic book convention is enormous. This type of promotion also attracts the interest of local media which is the best mean of generating awareness of a comic book convention. Local theatres could even organize local comic book themed weekends screenings during local comic book conventions and have ticket draws where the benefit would go to local charities, such as literacy groups.

Several cities, such as Montreal, have jamming sessions organized by local comic book creators. Why not try to schedule one of them during a comic book convention and invite the public to watch how comics are made on the spot? One of the best cross promotion effort I have witnessed was in 2005 at a Montreal fashion and art show with a comic book theme. The problem organizers had was convincing local comic book artists to participate with the organization. They were reluctant to see paintings and sculptures inspired by comic book themes.

However, all these efforts are in vain if not repeated yearly and without continuing to build relationships with the local industry. For example, the only time where local comic book stores attempt to reach out to their communities is usually on comic book days. Why not organize smaller comic book day events that are scattered throughout the year instead of focusing all energies only on a single Saturday in May?



The onus to develop the comic book industry does not rest exclusively with comic book publishers and distributors. It is something that is first developed locally. Comic book stores with their store front presence in their communities are well-paced to handle the daily needs of comic book enthusiasts and potential readers, but often, it is the comic book convention that catalyses all these efforts into a cohesive vision for the local comic book industry. This catalyst must reach out to a wider area and become an important economic and promotional arm of the comic book industry.


© Copyright 2002-2019 by Toon Doctor Inc. - All rights Reserved. All other texts, images, characters and trademarks are copyright their respective owners. Use of material in this document (including reproduction, modification, distribution, electronic transmission or republication) without prior written permission is strictly prohibited.