Comics / Manga / Yaoi Manga
Prince Charming: Volume 2
By Leroy Douresseaux
Sep 23, 2008 - 8:46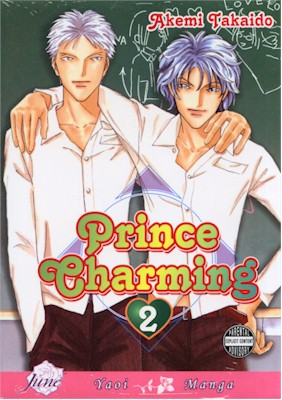 Cover for Prince Charming 2
Rated "M" for "Mature Audiences 18+"
In Akemi Takaido's yaoi manga series, Prince Charming, a trio of high school students: Hitoshi Yuasa, Yoshimi Kagami, and Kei Nagai enjoy their wild youth with nights of drinking and clubbing and sometimes debauchery. Their teacher, Mitsuru Asahina, himself a serial lover, reluctantly follows along.
In Prince Charming, Vol. 2, Yuasa and Asahina live together, although that could cost the adult Asahina his job – not to mention other troubles, but others want in on the action. Nagai finally expresses his love for Yuasa. Meanwhile, Kagami wants to get close to Asahina, even if that means moving in with him. Then, Kagami is beaten and stabbed in an altercation with old enemies.
Prince Charming is a strange manga creature. On the surface, it looks like a debauched comic romp, but at heart it is a randy ensemble "dramedy" (drama and comedy). It has its moments, and readers may find many the main characters endearing. For me, Prince Charming never really comes together; it's more a series of scenes rather than a sustained narrative.
B-
NOTE: I'd like to offer my condolences to writer and blogger Brigid Alverson of www.MangaBlog.net. Her father passed away Tues., Sept. 16. Our prayers go out to her and her family.
Last Updated: Jun 26, 2018 - 9:28