Wicked Witch Preview
By The Editor
April 13, 2004 - 10:19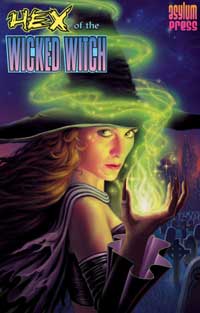 Asylum Press has announced that online previews are available for Frank Forte's Hex of the Wicked Witch TP (APR042355F) and Robert Steven Rhine's Satan Gone Wild #1 (APR042356F), providing retailers and fans with an excellent opportunity to gauge orders in their stores for both April-solicited titles!


Hex Of the Wicked Witch is set in a futuristic decayed Salem Massachusetts the city is dark and culminated by evil. Witches, vampires, werewolves and voodoo priests fight an endless battle for control of the city. The Wicked Witch belonged to a coven that was recently murdered. Only she has survived. Rumor has it that in Hell, the souls of these witches are being held captive and their power being harnessed to some warlock back on earth. The Wicked Witch must find this warlock and destroy him before his power allows him to take control of Salem. But time is running out as the witches and warlocks of Salem are battling each other for control of the city. Can the Wicked Witch save the city or is it destined to destroy itself? Also includes special sketchbook section.


Hex Of the Wicked Witch is written and illustrated by Frank Forte. 128 pages. B&W retailing at $14.95.


Asylum Press has announced the availability of an online preview of Frank Forte's Hex Of the Wicked Witch GN, providing retailers with an excellent opportunity to gauge orders for the title in their store.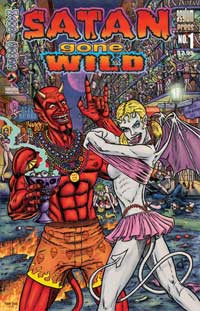 An online preview of HEX OF THE WICKED WITCH is available at:


http://www.asylumpress.com/hexcomics.html


The easy-to-navigate preview is perfect for building interest in the title. In addition, the cover to Hex Of the Wicked Witch, painted by concept designer Philip W. Straub was featured in Spectrum 8, The Best In Contemporary Fantastic Art.


A joint production between Asylum and FrankenRhine Productions, Satan Gone Wild #1 is written by Rhine and illustrated by Hilary Barta (Hellboy Jr., Tomorrow Stories' "Splash Brannigan"), Steve Mannion (Batman), Nenad Gucunja, Kevin Colden (House of Twelve), and Hex's Frank Forte, who also supplies the issue's cover. Inside, readers are invited to party in the Big Sleazy for Mardi-Gross madness! Satan Gone Wild #1 features a terrifying gumbo of mayhem, horror, humor, and all that jazz -- zombies, serial killers, reality shows, voodoo, vanity, and toxic tennis shoes corrupt this 40-page, black-and-white issue for mature readers! In the first story, "Live Nudes," two rowdy college buddies explore the underbelly of Naw'lins and wind up gutted; in "Eat Me," two reality show producers give the pitch of their life...or is it death? Next, in "The Fungus Among Us," a boy's moldy tennis shoes turn into a nightmare for his family, while in "Skinned Deep," a decrepit old woman longs for firmer flesh and finds it on the jogging path...literally; and a noir horror story entitled "Private I" concludes this can't-miss title!


An online preview of SATAN GONE WILD is available at:


http://www.asylumpress.com/sgw.html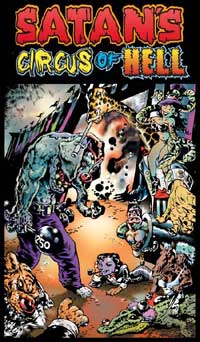 The Hex of the Wicked Witch TP and Satan Gone Wild #1 are both listed in the Comics section of the April Previews, while Robert S. Rhine's other horror anthologies Chicken Soup for Satan #1 (APR032021F) and Selected Readings from Satan's Powder Room #1 (APR022060F) are both available for reorder -- confirm copies of these unique titles today!


Plus, look for these Asylum projects in 2005:


* Satan's Circus of Hell GN: This 150-page collected edition from Asylum and FrankenRhine will contain all the stories from Selected Readings from Satan's Powder Room, Satan Gone Wild, and Chicken Soup for Satan. It will also feature brand new stories illustrated by Frank Forte and others, and will showcase the work of John Cassaday, Hilary Barta, Steve Mannion, Rich Longmore, Jacob Hair, and Nenad Gucunja.


Warlash GN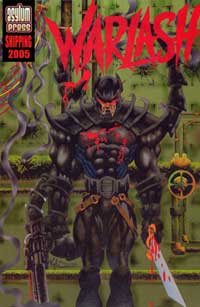 Cover by Frank Forte
Written and Illustrated by Frank Forte
Synopsis: Warlash, a secret biomechanical weapon of the United States government, has been asleep in a suspended animation chamber far below the earth. After an attack by a foreign power, the underground bunker that has housed Warlash is disrupted and the biomechanical warrior is released. Dazed and unsure of who he is Warlash sets about on a rampage. Being part cyborg, Warlash has only his scant memories and programming to try and figure out who and what he is. With news of his release the United States government wants their weapon back, dead or alive. But there are other agencies that want to have the Warlash weapon as their own. The earch for the biomechanical human battle machine begins. Warlash ,being human and cyborg, has a will and agenda of his own, and will not be taken easily. For those who like action and carnage in a futuristic armageddon where armor clad warriors and weapon fused cyborgs battle to the death. Action as only THE ASYLUM can bring!

Last Updated: February 5, 2023 - 09:06