Top Shelf Comics for May 2004
By The Editor
Jan 14, 2004 - 11:21
COMIC BOOK ARTIST (Vol 2) #4

Edited by Jon B. Cooke

Join us on the long, strange trip of the unique Alex Ni-o! In his first ever full-length interview, the veteran discusses his journey from hisstart as a "komik" artist in the Philippines to his current work as an animation production designer in Hollywood, U.S.A.! Alex also shares a huge gallery of his artwork, all behind a new Ni-o cover painting starring Captain Fear! We also feature an exhaustive interview with Byron Preiss on his innovative career in publishing. Whether overseeing Steranko's Chandler, Harvey Kurtzman's Strange Adventures or Joe Kubert's Yossel, Byron's worked with them all! Plus CBA Classic presents the most comprehensive look ever at the great Filipino comic book artists -- Nestor Redondo, Alfredo Alcala, and many more-- complete with the history of Filipino Komiks! Also: An all-new Steve Rude sketchbook, as well as our usual news, views'n'reviews, and more cool stuff!

-- $7.50 (US), 112 pages, Magazine, Perfect Bound, Color Covers, B&W and Full Color Interiors, 8.5" x 11"


SAME DIFFERENCE & OTHER STORIES

by Derek Kirk Kim

Selected as one of the best books of 2003 by Publishers Weekly. "Kim captures the ups and downs of early adulthood with sensitivity and gentle wit." -- The Comics Journal … After searing through the self-published run of Same Difference and Other Stories in just a few short months, Derek Kirk Kim proudly moves his debut collection to Top Shelf! Through a series of sensitive--and often hilarious--short stories, Kim deftly explores the not-so-average twenty-somethings' quarter-life crisis, romantic neurosis, and a refreshing slice of Korean-American life. Kim's self-effacing wit, ear for dialogue, and meticulous art style earned him the Xeric Grant as well as an Ignatz award in 2002 and 2003, respectively. Find out for yourself why Derek Kirk Kim is considered a standout among the new generation of cartoonists and a fresh new voice in Asian American literature.

-- $12.95 (US), 144 pages, 5.5" x 8", Graphic Novel, ISBN 1-891830-57-0


ALL FLEE!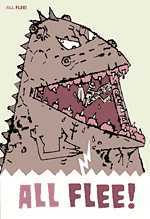 by Gavin Burrows and Simon Gane

Humans! Beware the three-toed tread of All Flee! 32-pages of monster-sized city-trampling shenanigans, all wrapped up in a cool comic-sized format! Run! As ancient jokes long thought dead are brought back from the depths to terrorize comic-reading kind once more! Try to hide! From the monsters begat from a crazed laboratory experiment by Doctors Simon Gane and Gavin Burrows, unleashed upon innocent comic-reading kind! Buy! For only impulse purchase can save you now!

-- $3.95 (US), 32 pages, 6 1/2" x 8 1/2", Color Cover, B&W Interiors, Comic Book


DANG!

by Martin Cendreda

"(Cendreda's) cartooning is delicate and the story is just the sort of intimate tale that makes comics, with their solitary interaction with a reader, a distinct medium." -- Tom McLean, Variety.com … Dang!, the first prime-time comic book by fabulous new cartoonist Martin Cendreda, follows the sad, tragic life of good ole' Herbert Hound and his encounters with obnoxious teens, fashion conscious yuppies, and twin homeless orphans. Guffaws abound in Martin's delightfully drawn comic, with an art style hinting at Clowes and Tomine, yet with chops uniquely his own.

-- $3.50 (US), 32 pages, 6" x 9", Color Cover, B&W Interiors, Comic Book


EPOXY (GIANT SIZE SPECIAL)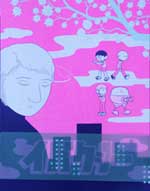 by John Pham

Manga meets Indy comics in this amazing large-format collection of John Pham's stories. Showcasing a completely unique style that combines the best of Asian and American cultures, Epoxy has not only been profiled in magazines like XLR8R and Publishers Weekly, but has also been named "The Best Comic of 2003" by THE FACE in the UK. This collection features the 48-page opus "Oceanus vs. the Venusian Crayfish," as well as "The Search for Astro Girl," and definitely proves that Pham is a talent to watch out for.

-- $15.00 (US), 104 pages, 8.5" X 11", Full-Color Cover, Indigo Blue Monochrome Interiors, Graphic Novel, ISBN 0-9677989-4-9

Last Updated: Jun 26, 2018 - 9:28