# Runners: Bad Goods #5
By The Editor
November 25, 2004 - 09:17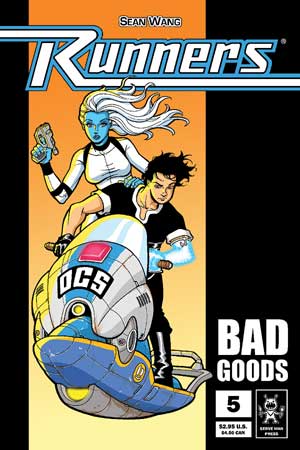 No, not in a Marvel Unlimited way, but in an ongoing series kind of way. With Runners: Bad Goods #5, the sci-fi action comedy series by Sean Wang will wrap up the first story arc, but the series will continue with issue #6 in 2005.



"I originally conceived of the title as a series of mini-series," says Wang, "but given the continuing epic scope of the project, it seemed to make more sense as an ongoing title. So instead of having issue #5 just be the final chapter of the current arc, it now also sets some very important things in motion for the continuing story."



Runners, the space adventure comic about a group of alien smugglers, has received wide attention and rave reviews, with a recent Comic Buyer's Guide review giving the series four (out of four) stars, saying, "This is what Star Wars books should be like...This top-notch space-opera comic book is 'must' reading for fans of the genre." Response to Runners has been overwhelmingly positive, with many orders for issues #1-4 coming in from people who haven't been able to find them in stores, and the first four issues are already close to selling out.



Runners: Bad Goods #5 finds Bocce and Sky racing through the alien city on a stolen skybike while pursued by legions of mounted police. Meanwhile, the other runners return to the city and their cat-and-mouse game with the police and the pirate Hamron as Roka attempts a daring high-speed rescue of his missing crewmates. Runners: Bad Goods #5 is available for pre-order in December from Serve Man Press, $2.95 (U.S.), 24 pages, full color cover with black-and-white interiors. Runners: Bad Goods #1-4 are still available through Diamond, Cold Cut and FM International.



A special 6-page sneak preview of Runners: Bad Goods #5 is now available on selected comic news sites and at www.seanwang.com.



About Sean Wang

Sean Wang, an MIT architecture graduate, got his start in the comics industry writing and penciling seasonal specials for The Tick, published by New England Comics. His work has been featured in the Yule Log Special #1, Big Romantic Adventure, Summer Fun Special and the Back-to-School Special. Shortly thereafter, Sean began writing and drawing the ongoing Tick and Arthur series, a highly-regarded book that chronicled the Tick and Arthur's adventures as members of a dysfunctional super-team. Currently, Sean is working on his new comic book project, the self-published sci-fi action-comedy Runners.
Last Updated: August 31, 2023 - 08:12