Pretty Face: Volume 3
By Leroy Douresseaux
Nov 19, 2007 - 14:06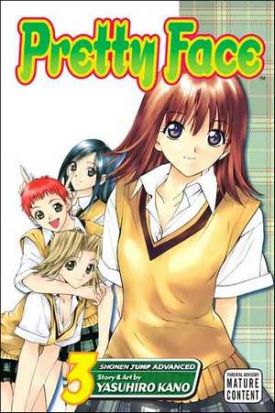 Thanks to barnesandnoble.com for the image.
Masashi Rando
was a karate star at his high school, but he was also a macho, teen jerk. After his school bus crashes, Rando barely survives and remains in a coma for a year. Rando awakens to find that
Dr. Manabe
, a slightly insane plastic surgeon, has reconstructed his face into that of a girl Rando knows (although the rest of his body remains the same) – the beautiful
Rina Kurimi
.
When the real Rina spots Rando, now with a girl's face that looks like her own, she assumes that Rando is her long-lost twin sister, Yuna. Rina and her family take Rando/Yuna into their home, welcoming the return of the prodigal sibling. Rando just wants to finally get close to the girl he loves, but can he be a good "big sister," or will the fact that he's still a teenage boy from the waist down mean trouble?
Still struggling with the duty of being a good sister, Rando/Yuna enters Pretty Face, Vol. 3 facing one awkward situation after another with each one bringing him closer to the edge of having his secret revealed. Rina's cousin, Miwa Masuko, has her eyes on Rando/Yuna – suspicious that something is not right. When Masuko tries to get Yuna into a bathing suit, he/she's worried about his… package showing. Meanwhile, aggressive freshman girl, Nozomi Ueda, is obsessed with Yuna and won't take "No" for an answer when she proposes a "close" relationship between her and Yuna.
THE LOWDOWN: While Pretty Face is every bit as eccentric as Yakitate!! Japan, it's similar to Akira Amano's Reborn in that Pretty Face's manga-ka (creator) Yasuhiro Kano is able to concoct endless comic scenarios in which to place Rando/Yuna. Each one is an exercise in bawdy, coarse, and vulgar humor. Think filmmakers Judd Apatow (Knocked Up) meets the Wayan Bros. (White Chicks). Kano's drawings of compromised breasts and swaying buttocks also add just the right comic touch.
POSSIBLE AUDIENCE: As part of VIZ Media's manga line, "Shonen Jump Advanced," Pretty Face is shounen (boys' comics) for big boys.
B
Shop VIZ at the Amazon aStore.
Last Updated: Dec 19, 2017 - 22:52