Platinum End: Volume 1 manga review

By Leroy Douresseaux
Oct 5, 2016 - 20:56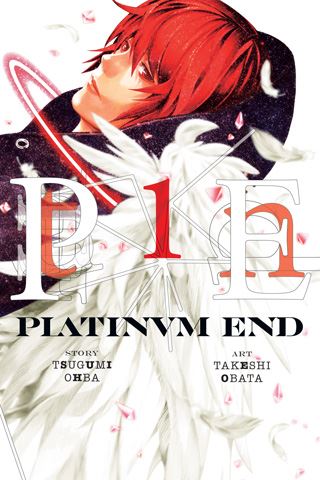 Platinum End Volume 1 cover image
Rated "M" for "Mature"
Platinum End
is the new manga from the mangaka team of writer
Tsugumi Ohba
and artist
Takeshi Obata
. They are best known for their bestselling and controversial manga,
Death Note
, and also for the insider manga,
Bakuman。
.
Platinum End

, Vol. 1
(Chapters 1 to 3) introduces orphan
Mirai Kakehashi
. He is tired of life and attempts suicide by jumping from the roof of a building. Instead of dying, Mirai is saved by an angel named
Nasse
. Through her, Mirai learns that 13 humans have been chosen as candidates to replace God. Each has a guardian angel, and Nasse is Mirai's.
Nasse gives Mirai the "
angel's arrow
" which can make anyone, male or female, hit with that arrow love Mirai for 33 days. She gives him wings that allow him the freedom to go anywhere he wants. The problem is that these new powers and this God candidate contest both have a dark side.
THE LOWDOWN:
The
Platinum End
manga, like the Death Note manga, is shockingly edgy. It is obvious from the beginning that this new manga by the Ohba-Obata team will be dark, but by the end of this volume's three chapters (which are rather longish), events reveal a sinister mood that is beyond the obvious.
Platinum End Volume 1
is the kind of first volume that practically forces the reader to return for more. And I love this sinister. Dear reader, I should admit that I am a huge fan of Ohba and Obata's Bakuman。and plan to read it again. I think that Obata certainly deserves his nickname, "the god of drawing;" he is that good. Trust me, however;
Platinum End
is going to be a helluva manga, and it has a heckuva first volume.
POSSIBLE AUDIENCE:
Readers looking for superb comic books will want to read Ohba and Obata's latest Shonen Jump title,
Platinum End
.
A
Rating: A /10
Support this writer on Patreon
Last Updated: Jun 26, 2018 - 9:28