Planes: Fire & Rescue Blu-ray review
By Leroy Douresseaux
November 4, 2014 - 19:57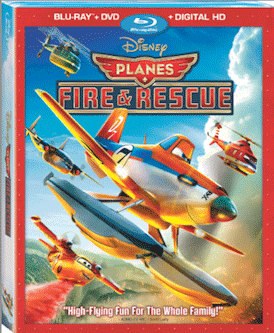 Planes: Fire & Rescue Blu-ray/DVD combo package cover art
Follow me on
Twitter
.
The flying and driving stars of Disney's 2013 film,
Planes
, are back in the high-flying action comedy-drama,
Planes: Fire & Rescue
. The film arrives on Disney Blu-ray Combo Pack, Digital HD, Disney Movies Anywhere, DVD and On-Demand platforms on
Tuesday, November 4, 2014
. The heartwarming, heart-pumping, and laugh-filled movie focuses on famous air racer, Dusty Crophopper. After he learns that his racing career might be over, Dusty joins an elite fire and rescue unit and learns what it takes to be a true hero.
Fire & Rescue
features non-stop action, memorable characters, and never-before-seen bonus features on Blu-ray. Why is this movie fall's must-own animated family film? The reason is because Planes: Fire & Rescue is better than the original Planes, which itself is a good film.
As
Planes: Fire & Rescue
opens,
Dusty Crophopper
(Dane Cook) continues his successful aerial racing career that took off after he won the Wings Around the Globe Rally. However, the high rates of speed at which Dusty flies leads to some internal damage that may end his racing career. After an accidental fire closes the airport in his hometown of
Propwash Junction
, Dusty offers to undergo training to be certified as a firefighter.
He travels to
Piston Peak National Park
to train under
Blade Ranger
(Ed Harris), a veteran fire-and-rescue helicopter, and the crew he commands, the
Piston Peak Air Attack
. Dusty, however, is over-anxious and his training proves to be a difficult challenge, even as a major fire strengthens and threatens the entire park.
There is no way that I expected
Planes: Fire & Rescue
to be a better film than Planes, which I really liked, but the sequel surpasses the original. Why is that? Fire & Rescue has heart; it's that simple. Dusty Crophopper's problems: the dilemmas he faces, his conflicts with his new colleagues, his self-doubts, his grief over a possibly lost career, and his desperation to prove himself all over again make for surprisingly gripping drama.
Yes, I said drama. Pixar's films are strongly dramatic, even when there is a lot humor or at least a strong undercurrent of humor. The Planes films are a spinoff of a Pixar series, but are not produced by Pixar. They are produced by another Disney unit (DisneyToon Studios). Still, Fire & Rescue feels kind of Pixar-ish, and that is, of course, a good thing. This film is more of a heartwarming drama than it is a comedy for children.
Fire & Rescue is also a topnotch aerial action film. It is still hard for me to believe that computer-animated air planes and helicopters in action could be as exciting to watch as live-action airplanes and jets, but it is true. My interest in the story soared with each new flight scene.
Once again, the voice acting cast supporting Dane Cook is good, and that means a good film for family viewing and a good film in general. In fact, I think that if more adults gave
Planes: Fire & Rescue
a chance, they would like it.
About the bonus features:
Planes: Fire & Rescue's Blu-ray and Digital HD features include a wondrous high definition picture and sound. There are thrilling bonus features, including the all-new exclusive short "Vitaminamulch: Air Spectacular;" the mock-umentary promotional piece "Welcome to Piston Peak;" "CHoPs" TV Promo and "Air Attack: Firefighters From The Sky," an exciting inside look at the making of the film featuring real-life smoke jumpers and firefighters. Additional bonus features include Spencer Lee's "Still I Fly" music video, deleted scenes with filmmaker introductions, and two "PLANES: FIRE & RESCUE" shorts: "Dipper" and "Smokejumpers." Exclusively available on Disney Movies Anywhere (DMA) are the bonus shorts "Blade Ranger" and "Piston Peak."
Planes: Fire & Rescue's star-studded voice cast includes Dane Cook ("Planes") as Dusty, Julie Bowen ("Modern Family") as Dipper, Ed Harris ("Gravity") as Blade Ranger, Captain Dale Dye ("Saving Private Ryan") as Cabbie, Cedric the Entertainer ("Ice Age") as Leadbottom, Erik Estrada ("CHiPs") as Nick "Loopin" Lopez, Brad Garrett ("Everybody Loves Raymond") as Chug, Teri Hatcher ("Desperate Housewives") as Dottie, John Michael Higgins ("Pitch Perfect") as Cad, Hal Holbrook ("Into the Wild") as Mayday, Stacy Keach ("Planes") as Skipper, Regina King ("Ray") as Dynamite, Anne Meara ("Night at the Museum) as Winnie, Jerry Stiller ("The King of Queens") as Harvey and Wes Studi ("Avatar") as Windlifter. It was directed by Roberts Gannaway ("Secret of the Wings") and produced by Ferrell Barron ("The Fox and the Hound 2").
Bonus Features:
Blu-ray Combo Pack, Digital HD/SD & Disney Movies Anywhere:

· Exclusive Animated Short - "Vitaminamulch: Air Spectacular"
· "Welcome to Piston Peak! - This mock-umentary promotional piece shows off all the highlights of the acclaimed Piston Peak National Park and its aerial firefighting team.
· "CHoPs" TV Promo - An in-world TV promo with announce.
· Air Attack: Firefighters From The Sky - This high-energy, music-driven behind-the-scenes piece takes an inside look at the real smoke jumpers and firefighters who attack wildfires from the air as Director Roberts Gannaway and Producer Ferrell Barron take us through their journey in making the film.
· Spencer Lee Music Video "Still I Fly"
· Deleted Scenes with Filmmaker Introductions:
o "Honkers"
o "Dusty's Dream No More"
· Animated Shorts:
o "Dipper"
o "Smokejumpers"
*Digital bonus offerings will vary per retailer
DVD
· Spencer Lee Music Video "Still I Fly"
Exclusive DMA Discover Content:
· Animated Shorts:
o "Blade Ranger"
o "Piston Peak"
Rating: A- /10
Last Updated: February 5, 2023 - 09:06