Pick of the Litter: Volume 1
By Leroy Douresseaux
Aug 22, 2007 - 12:14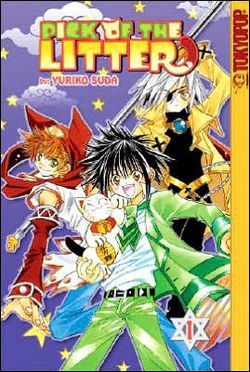 Thanks to barnesandnoble.com for the image.
In the manga, Pick of the Litter, Vol. 1, by manga-ka (creator) Yuriko Suda, a 15-year old discovers his long-lost family and rediscovers the magical power that resides within him.
Ruki Fukagawa cannot remember who his parents were, and he often dreams of having a family. Actually, he does, and they're from the magical world of Yamato. Ruki is the youngest of six sons in a family that operates the pet store/knick-knack shop, Hiyokoya. He follows his siblings, Shii, Satsuki, Futaba, and the rest back to the Genroku, the Yamatoan capitol city.
Soon Ruki is helping this family run the shop and fight off sneaky competitors, and trying to figure out his own magical power – the ability to find lost living things. He's facing two other complications. First, Ruki comes into possession of rambunctious spirit that resides in a cat idol made of holy spirit stone, and back on Earth, Mizuno, the girl with a crush on him, is starting to get suspicious.
THE LOWDOWN: Pick of the Litter is playful and wacky. Suda relies on simple situation comedy-style plots that allow the characters and the magical setting to remain in the forefront. In fact, Pick of the Litter's characters and setting are saturated with magic. It's like a comic set in the faerie world, and there's no real world context. Suda's inventive character design and stylish and imaginative costume conception make for a visual interesting book.
POSSIBLE AUDIENCE: Pick of the Litter really reads younger than the audience suggested by the book's rating ("T" for "Teen-Age 13+). The imagination inherent in the concept may, however, attract older readers of fantasy.
B
Get your pick of any litter at the Amazon aStore.
Last Updated: Jun 26, 2018 - 9:28