Phantom Thief Jeanne: Volume 4 manga review
By Leroy Douresseaux
November 22, 2014 - 20:20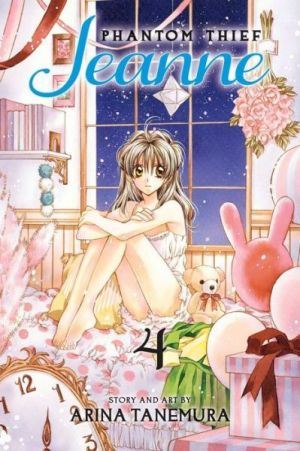 Phantom Thief Jeanne Volume 4 cover image is courtesy of barnesandnoble.com.
Follow me on
Twitter
.
Rated "T" for "Teen"
There are paintings in which demons reside.
Maron Kusakabe
, a 16-year-old high school student, transforms into
Phantom Thief Jeanne
, who sneaks into private art collections. Then, she steals such possessed paintings and seals the demons before they can devour human hearts. However, Jeanne has a rival,
Phantom Thief Sinbad
, but he is also
Chiaki Nagoya
, a boy in love with Maron.
As
Phantom Thief Jeanne

, Vol. 4
(Chapters 20 to 25) opens, Finn Fish, the "Minor Angel" that serves Maron, betrays her. As distraught as he is, Maron still will not give up on redeeming Finn.
Later, Maron and
Claude Noin
travel back to the 15th century to save
Jeanne d'Arc
, whom Noin loves. Maron's soul is the reincarnation of d'Arc, the source of her power. How will saving Jeanne from execution affect Maron's future? Meanwhile, Chiaki declares his love.
[This volume includes a bonus story, "Instant?! Access Legend" and also some illustrations.]
THE LOWDOWN:
The
Phantom Thief Jeanne
manga (originally titled
Kamikaze Kaito Jeanne
) is an early work from beloved manga creator,
Arina Tanemura
. Although it seems like pure bubblegum magic girl juvenile fantasy, this series has heart and also a little darkness.
Phantom Thief Jeanne Volume 4
demands at least a little emotional involvement from readers. The lead characters are full of love and a strong desire to sacrifice for the ones they love. Vol. 4 is the second-to-last graphic novel of this series, and it gives Vol. 5 the chance to end strongly.
POSSIBLE AUDIENCE:
Fans of Arina Tanemura's manga will want to try the Shojo Beat title,
Phantom Thief Jeanne
.
Rating: B+ /10
Last Updated: August 31, 2023 - 08:12