Phantom Thief Jeanne: Volume 2 manga review
By Leroy Douresseaux
July 28, 2014 - 12:22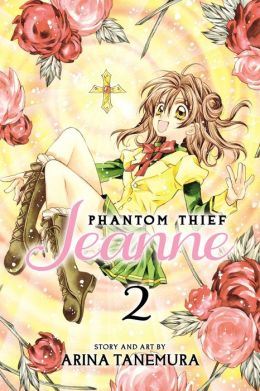 Phantom Thief Jeanne Volume 2 cover image
Follow me on
Twitter
.
Rated "T" for "Teen"
Some paintings have demons residing inside of them.
Maron Kusakabe
, a 16-year-old high school student, transforms into
Phantom Thief Jeanne
. She sneaks into private art collections so that she can steal such possessed paintings and seals the demons before they can devour human hearts. However, Jeanne has a rival,
Phantom Thief Sinbad
, but he is also
Chiaki Nagoya
, a boy in love with Maron.
As
Phantom Thief Jeanne

, Vol. 2
(Chapters 7 to 12) opens, Maron tries to forget Chiaki, whom she realizes betrayed her when he admitted to his lying. Adding to her woes is the news that her parents are divorcing… just after discovering something wonderful that her father gave her.
Maron reveals to Chiaki why she became
Phantom Thief Jeanne
, but Chiaki also has some explaining to do. Can they help each other, or will Maron really turn her back on being Phantom Thief Jeanne?
[This volume includes a bonus story, "Miyako Catharsis," and illustrations.]
THE LOWDOWN:
The
Phantom Thief Jeanne
(originally titled
Kamikaze Kaito Jeanne
) manga was apparently the second manga created by beloved shojo mangaka,
Arina Tanemura
. It is pure bubblegum magic girl juvenile fantasy. However, even this early manga has a trace of the darkness that lies just beneath the rococo wonderland that is Tanemura's graphical storytelling.
Phantom Thief Jeanne Volume 2
reveals a little of that darkness that I did not find in Vol. 1. I also enjoyed this second volume more than I did the first. I must admit that I am somewhat curious about the next volume.
POSSIBLE AUDIENCE:
Fans of Arina Tanemura's manga will want to try the Shojo Beat title,
Phantom Thief Jeanne
.
Rating: B /10
Last Updated: January 24, 2022 - 11:00