John Kerschbaum's Petey & Pussy
By Leroy Douresseaux
May 20, 2009 - 14:40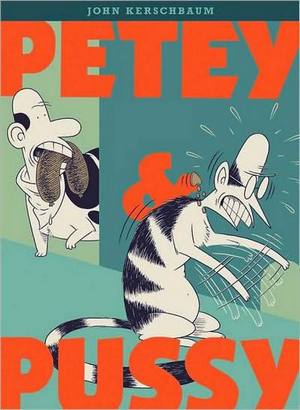 Petey & Pussy cover image is courtesy of barnesandnoble.com.
Petey & Pussy is a collection of interconnected comix shorts and short stories that form a graphic novel. The work of cartoonist John Kerschbaum, Petey & Pussy stars what is essentially a cat-and-dog comedy team. These funny, talking animals, however, have human heads, of which the outstanding features are prominent noses and balding pates.
Pussy is a rude house cat with a caustic wit and a sharp tongue, and his round spectacles gives him a Larry David vibe. He lives with a decrepit old lady who on the surface seems to be in the throes of dementia, but who has a surprisingly peppy step. Pussy shares the house with a legion of mice (including a smart one that seems to be a cross between Speedy Gonzales and Jerry of Tom & Jerry) and a falling-to-pieces suicidal bird. Pussy's pal is Petey, a chunky, roly-poly dog with a fondness for drink. Petey personifies the blue collar bum. He is the kind of guy to go to if you need a partner in crime to help you do bad stuff.
Petey & Pussy chronicles their criminal misadventures. Their exploits include a boa constrictor, corpse dismemberment, and foiling a thieving niece. Along the way, Petey and Pussy always find time to drink at Joe's.
On the back of Petey & Pussy's book jacket, there's a quote from Johnny Ryan, creator of Angry Youth Comix, which says, "Kerschbaum is one of the few cartoonists whose work makes me wince in horror." That's saying something, because Ryan's own comix can simultaneously dry out and straighten out a Jheri curl. I've read some crazy comix, and while he won't scare you under the sheets like S. Clay Wilson, Kerschbaum can be as raw as R. Crumb, Peter Bagge, and Ryan, who may be his closest comix cousins.
It is possible to see a similarity between Petey & Pussy and Looney Tunes. Kerschbaum's work here does have a passing resemblance to the irreverently violent cartoons of Looney Tunes director, Bob Clampett, and the racy and risqué work of Tex Avery. In fact, Petey & Pussy has a cousin in modern animation, the work of Seth MacFarlane ("Family Guy" and "American Dad").
That said, John Kerschbaum has taken whatever influenced him and has developed his own weird, violently funny thing. No fan of adult funny animal comics (like Fritz the Cat) will want to miss Petey & Pussy. I don't know enough about John Kerschbaum to say whether or not I'll be praising his future work, but Petey & Pussy is some funny shit.
A-
Last Updated: August 31, 2023 - 08:12