Comics / Manga / Yaoi Manga
Pathos II (Yaoi)
By Leroy Douresseaux
Jan 4, 2009 - 7:52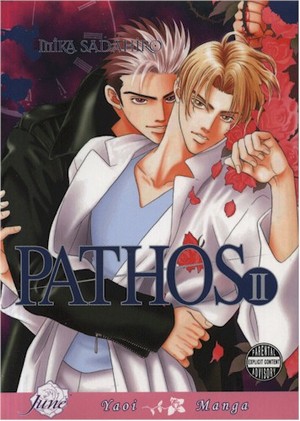 Pathos II cover image is courtesy of Anime Castle Book.
Ace Clayton was adopted by the handsome, bestselling author, King Clayton. Ace lived a life of leisure and luxury with his "adopted brothers," King and his aloof lover, the arrogant J, who taunted Ace, using all the guile he used to seduce male lovers. King and J are also vampires. J's harassment and teasing of Ace only caused the boy confusion, so King sent Ace to a private boarding school until he turns 18.
As
Pathos, Vol. 2
opens, Ace has finished school. He's also 18 and can't wait to get back to his meet his brothers. They've been asleep for four years, waiting for the day Ace returns. Now, that Ace is back, he doesn't want things to go back to being the way they were before he was sent away to boarding school. He's ready to become J's lover …forever, and that means Ace wants to be a vampire. Will his brothers grant him his wish, and will it really mean "happily ever after?
THE LOWDOWN:
I find that Pathos reads almost as if it's a romance novel/historical fiction. Not only does the complete story span centuries; it also feels timeless, as love stories are want to do. Like many romance novels, Pathos' story is filled with engaging characters and rich characterization; Ace, King, and J are decidedly different, but creator Mika Sadahiro makes the trio fit in a way that makes for a fine story. Also, like many special tales of romance, Pathos is marked by both searing passion and shocking tragedy, which Sadahiro presents in a way that will have readers racing through this book.
Sadahiro's visual storytelling features compositions that are practical in terms of storytelling and lean, but potent in terms of the visual language of yaoi manga. Her draftsmanship features clean, elegant line work that is sparse in toning and shadows (compared to what's found in many manga). Fancy design work and decorations (flowers and patterns) are used only when a moment in the story really needs it, which makes those moments that much more potent.
POSSIBLE AUDIENCE:
Fans of supernatural yaoi will find Pathos to be an exceptional series that is not to be missed.
A-
Visit the Yaoi Store.
Rating: A- /10
Last Updated: Jul 11, 2018 - 20:27