Comics / Manga / Yaoi Manga
Ayumi Kano's Passionate Theory (Boys' Love)
By Leroy Douresseaux
Dec 11, 2008 - 9:52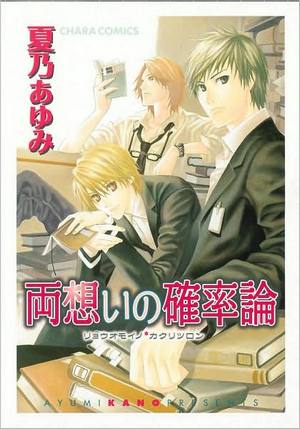 The above cover art from the Japanese edition of Passionate Theory appears on June Manga's edition with new cover copy.
Rated "YA" for "Young Adults 16+"
Midori Komasawa wants to study overseas, but that means so much paperwork and an improvement in both his math and English speaking skills. Now, he's suddenly getting static from his relatives. There's his crafty cousin Ginchiro "Gin" Hanabusa who constantly lectures Midori about his decisions and is also Midori's high school math teacher. His other cousin, Arie Kanoh, once friendly, is now distancing himself from Midori. The big problem is that both Gin and Kanoh are in love with their cousin, so Midori is left with a lot of questions about their motivations. Will Midori's personal problems entangle his bid to study overseas?
Passionate Theory by Ayumi Kano is a boys' love manga that reads like it is trying to be a talky teen soap opera. There are few scenes of physical intimacy (so this isn't yaoi manga), but there is a lot of intimacy. Thoughts, concerns, fears, longings, desires, jealousies, etc. are shared during long conversations. There is so little that remains private that one can only wonder how these three have remained close without driving each other absolutely crazy.
The art by Ayumi Kano is exceptionally pretty and elegant. She crosses the figure drawing with toned shadows and patterns. In fact, on one title page, Kano draws toned patterns of trees on the characters' clothes, and it's a striking image. Kano places her characters in a world that is not unlike a Film-Noir environment. One can almost hear the jazzy score in the background while slipping into this comfy world of young love.
B
Last Updated: Jun 26, 2018 - 9:28