Papillon: Volume 5/6
By The Editor
November 29, 2010 - 08:51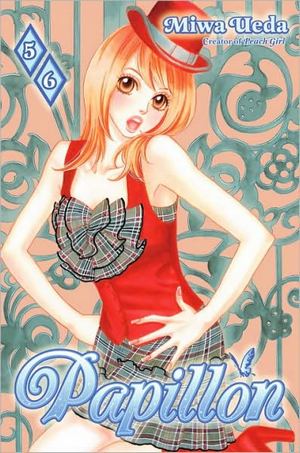 Papillon Volume 5/6 cover image is courtesy of barnesandnoble.com.
Rating "T" for "Ages 13+"
Papillon is a shojo manga from creator Miwa Ueda. It is about twin sisters whose rivalry is driven directly by one sister and inadvertently by the other. Shy tomboy, Ageha Mizuki is an outcast at Meiyû High School, but her twin sister, Hana, is the ultra-glam, teen queen. But it is Ageha who seems to have an embarrassment of riches when it comes to male suitors, much to Hana's chagrin.
Papillon (which is also a French word for "butterfly") is published in North America by Del Rey Manga. In addition to publishing the series in single volumes (known as "tankobon" in Japan), Del Rey also collects the series in larger paperbacks collecting two volumes at a time. Papillon, Vol. 5/6 collects Volume 5 and Volume 6, of course, and it is indeed twice the fun.
As Papillon, Vol. 5/6 opens, Ageha is looking forward to spending the summer with Hayato Ichijiku, a counselor-in-training and graduate student who acts as her guidance counselor. However, she will need some money for traveling, so she gets a job at an original cuisine restaurant, Mother Ga. Much to her surprise, she discovers that one of her fellow employees is Shinobu Shindô, and he has some surprising revelations to make. Meanwhile, Hana starts to raise more havoc in Ageha's life, especially when dark, ugly secrets from Hayato's past return like mean ghosts.
THE LOWDOWN: Some readers not familiar with Japanese romance comics like shojo manga may only have knowledge of romance comics through the stilted, soap opera-like romance comics of the 1950s and 60s, some of which featured beautiful art. Shojo romance manga are not like those comics. In a way, shojo romance is not just about the goal of finally winning the love of one's life and the happy ending. In many ways, shojo is also about the work and drama involved in romance and relationships.
Papillon is about Ageha's struggles to win and to hold onto the love of her life, and there is a lot of work involved. Someone, some thing, or some incident is always popping up or coming back, which, in the context of a narrative, is all drama and all conflict – all the time. Ageha is a wonderful character: pretty, plucky, and all heart, but it doesn't hurt that Papillon has a great supporting character in twin sister, Hana, who is every bit as interesting as the star. Hana is a Queen B, a spiteful, conniving girl who is also as devious as the best super-villains. I could read about her every day, but in the meantime, I'll settle for her in Papillon.
POSSIBLE AUDIENCE: Readers looking for teen shojo romance will find a gem in Papillon.
A
Last Updated: August 31, 2023 - 08:12