Papillon: Volume 2
By Leroy Douresseaux
March 3, 2009 - 19:42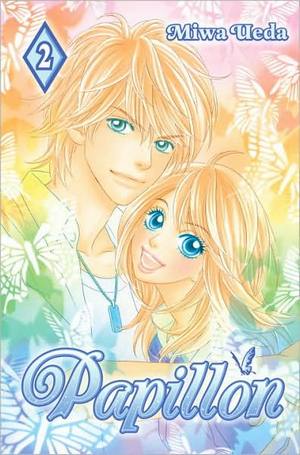 Papillon 2 cover image is courtesy of barnesandnoble.com.
Rating "T" for "Ages 13+"
While shy tomboy, Ageha Mizuki is an outcast at Meiyû High School, her twin sister, Hana, is the ultra-glam, teen queen. When she learns that childhood friend, Ryûsei Koike, is also a student at Meiyû High, Ageha hopes to rekindle a friendship that will eventually become something more, but she's in for a rude, hurtful surprise. Perhaps, Hayato Ichijiku, an impish high school guidance counselor, can change things around for Ageha.
As Papillon, Vol. 2 opens, Ageha reels from the shock of seeing Hana and Ryûsei in a romantic moment, when Ageha was supposed to meet him for a date. It's Ichijiku-sensei to the rescue, because Ageha needs help! Together, Ageha and her mother must dispel the fog of the past and reveal their innermost hurts if they are ever going to understand one another and also understand how things came to be as they are. Meanwhile, Ageha discovers that Ryûsei might not be the love of her life.
THE LOWDOWN: Pretty art and soap opera theatrics make Papillon quite a read. Although "papillon" is a French word for "butterfly," Papillon the shojo manga (comics for teen girls) is a pretty butterfly with the wallop of a good left hook. The pretty art belies the tensions that beset this manga's central players, the Mizuki family – especially the silent, but awesome friction between Ageha and Hana. If that weren't enough character spectacle, Hayato and Ryûsei's relationships with the girls promise even more fun in this sometimes heartfelt and sometimes melodramatic teen drama.
POSSIBLE AUDIENCE: Beautifully drawn with a story featuring raw teen emotions, Papillon is a good read for young shojo manga fans.
A-
Last Updated: August 31, 2023 - 08:12