Comics / Manga / Yaoi Manga
Our Kingdom: Arabian Nights
By Leroy Douresseaux
February 17, 2010 - 11:17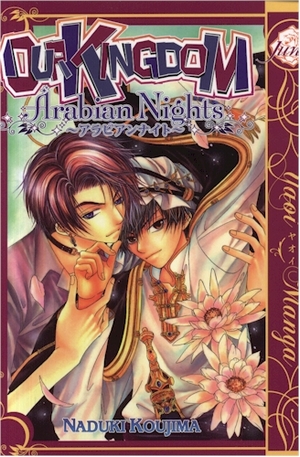 Our Kingdom Arabian Nights cover image is courtesy of Anime Castle Books.
Comedy/Romance; Rated "16+ Young Adult"
Our Kingdom is a yaoi manga series from creator Naduki Koujima. The series follows an orphan named Akira Nonaka who leaves the countryside to live with his paternal relatives, the wealthy Takatou Family. Akira is brought into the family to compete for the position of heir. His rival for that position is his cousin Kyle Rei Basil. Instead of acting like a rival, Rei takes an immediate liking to Akira, and the two become romantically involved.
Our Kingdom: Arabian Nights focuses on a supporting character, Raoul De Baviere Basil, who is Rei's nephew and rival. Seeking to avoid his nagging younger sisters, Raoul escapes to a high-class resort in an unnamed Middle Eastern country. He is immediately accosted and kidnapped by Ashif Bin Rashad al Gyalib, a young prince who is third in line for the throne. Ashif wants to make a gift of Raoul to his sister, Lady Noura.
Raoul finds himself falling in love with the naïve, well-meaning prince, and the young royal returns that love in a kind of clueless way. However, Ashif's older brother, Muzaffar, won't let anyone take his younger brother from him, and he's willing to go to dangerous lengths to keep Raoul and Ashif apart.
THE LOWDOWN: The beauty of the comic art in Our Kingdom overwhelms me. I am a huge fan of creator Naduki Koujima's graphic storytelling, which apparently finds gorgeous and lovely art essential to depicting romantic love and sex (yaoi) between young men. However, much of the first half of this story ("Volume 1") is dull and tepid boys' love. It isn't until the appearance of Muzaffar in "Volume 2," the second half of this book, that Our Kingdom: Arabian Nights comes to life. The rivalry and conflicts that make any drama, even romantic drama, come to life show up later in this book.
I'm sorry to say that there is practically nothing here for anyone who isn't already a fan of the main series. It's not really bad, but the pretty pictures are mainly what elevate this.
POSSIBLE AUDIENCE: Fans of Our Kingdom will want Our Kingdom: Arabian Nights.
B
Read more of my work at www.negromancer.com
Last Updated: May 19, 2020 - 12:25