Comics / Manga / Yaoi Manga
Our Kingdom: Volume 6
By Leroy Douresseaux
Apr 22, 2009 - 7:38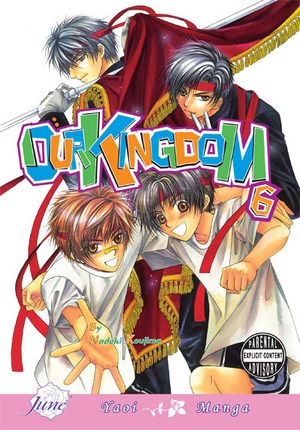 Our Kingdgom Volume 6 cover image.
Comedy/Romance; Rated "M" for "Mature Audiences 18+"
After his maternal grandmother died, orphan Akira Nonaka left the countryside to go and live with his paternal relatives, the wealthy Takatou Family. Akira is brought into the family to compete for the position of heir, and his rival to that position is his cousin Kyle Rei Basil. Cousin Rei doesn't act like a rival, taking an immediate liking to Akira, and the two become romantically involved.
In Our Kingdom, Vol. 6, Akira, Rei, and the rest of the boys are excited about Yokuyo Private Academy's athletics festival. As a member of the organizing committee, Akira is gung-ho about event, and so was Rei until he suddenly starts acting strangely. Could it be because of an encounter Rei has with another boy, the crafty Jyotõin? Or is it because of that mysterious woman who suddenly shows up at school?
Also, the latest installment of "Our Relationship," focuses on Akira's two best pals, Hiyori Hozumi and Tamaki Kaminozuki. When he was a small boy, Hiyori fell in love with Tamaki-chan, a beautiful little girl who was also madly in love with him. Years later, Hiyori learns that "Tamaki-chan" was really young Tamaki dressed in girl's clothing. Now, Hiyori is furious at being deceived, but Tamaki is still in love with Hiyori! Will they kiss and make up or will the chaotic events surrounding the impending wedding of one of Tamaki's sisters make things worse?
THE LOWDOWN: Practically every panel on every page of Our Kingdom is filled with cantankerous, wily boys on the prowl, conniving to get their way. Yet this busy manga is so lighthearted that one tends to forget that its hectic nature can sometimes drag the narrative to a stop. What this volume lacks in randy yaoi, it makes up for by being a playful boys' love romp. Actually, Our Kingdom comes across more as one of those high school-set shojo manga series full of bickering couples than it does as boys' love.
Creator Naduki Koujima (presumably with some assistance) also offers some beautiful art. From mischievous chibi and energized super-deformed to gorgeously drawn boys and superb composition, Koujima's manga is page after page of eye candy art to rival the prettiest shojo manga art. That makes reading this bishounen, shounen-ai, shojo, BL manga a good time.
POSSIBLE AUDIENCE: Readers who like boys' love comedy that is set at an all-boys school will like Our Kingdom.
B+
www.digitalmanga.com
www.akadot.com
Shop for Yaoi Delights.
Last Updated: Jun 26, 2018 - 9:28