Ordinary Victories (Combat ordinaire)
By Hervé St.Louis
May 11, 2005 - 08:08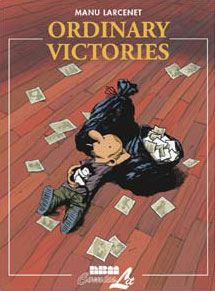 Ordinary Victories
Ordinary Victories is the story of Marco, a documentary photographer who is beginning to shed away some neuroses and appreciate life. Although a semi-autobiographical story, its tone is different from the current crop of North American works like Peep Show who are often approached through the first person. It is much closer to a Woody Allen film, where characters are part of a play.
Nevertheless, Marco, the story's narrator is always present. Larcenet gradually shows where Marco is and through several events, related to his cat, the hero abandons some of his fears. Manu never explains the origin of Marco's neurosis. It seems clinical. One major theme of this story is the anticipation of the death of one's parents. Marco learns to let go of his fears, and just accept life as it is.
Larcenet's work seems like a modern take of the traditional School of Charleroi illustration style seen in classics such as Asterix and Gaston Lagaffe. Yet, Marco has a grunge look that makes him and his brother look like teens. Perhaps Larcenet inferred that these middle-age men still haven't grown up and continue to act like kids. The storytelling works on several levels, especially the sequences with showing portraits that Marco shot on camera.
Last Updated: January 24, 2022 - 11:00