Haruka Fukushima's Orange Planet: Volume 1
By Leroy Douresseaux
Apr 23, 2009 - 11:55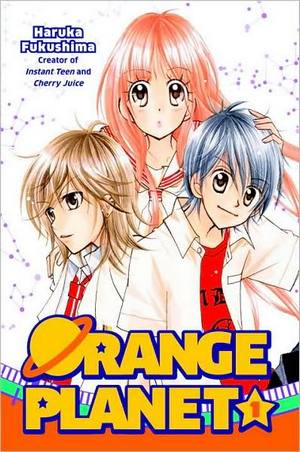 Orange Planet Volume 1 cover is courtesy of barnesandnoble.com.
Rated "T Ages 13+"
Rui Nagasaki is a teenage orphan living on her own, but she goes to high school and also delivers newspapers to make money. For all her resourcefulness, however, Rui has boy problems. One of them is Taro Amanatsu, the adorable boy next door. Sometimes Rui sleeps over at his apartment, going so far as to share his bed – in a strictly platonic way, of course! But Rui apparently doesn't have a clue about how much Taro loves her.
In Orange Planet, Vol. 1, Rui attempts to rescue someone during a fire at her apartment complex, and inadvertently opens the door for the biggest pest in her life, Eisuke Tachibana. Eisuke is a college student and science teaching intern at her school, and this total playboy somehow ends up living with Rui. Meanwhile, Kaoru Nakamura begins to romance Rui, much to Taro's chagrin.
Orange Planet is standard fare, as far as shojo manga (comics for teen girls) goes. The art is pretty and delightfully sprinkled with the usual graphic and visual cues of shojo manga art. The heroine, Rui, is the typical, somewhat unlucky-in-love, but plucky girl, and the rest of the cast, including the boyfriends, are what one would expect of a high school shojo romance. Even the fact that the heroine lives with an adult teaching intern is really no shocker compared to the usual antics in shojo series.
Still, manga-ka Haruka Fukushima is able to present Orange Planet with a minty freshness that creates a sparkling romance about a girl juggling too many boys. As usual, Fukushima's series only seems familiar; as always, there's something catchy about the execution that makes her work standout. Shojo fans will like Orange Planet.
B+
Last Updated: Jun 26, 2018 - 9:28