Ooku: The Inner Chambers Volume 4
By Leroy Douresseaux
August 19, 2010 - 11:37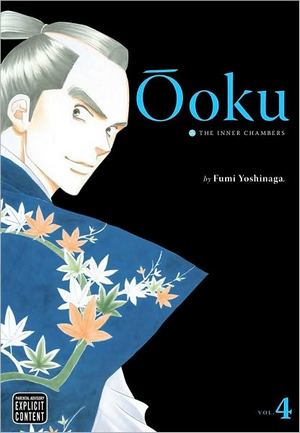 Ooku Volume 4 cover image is courtesy of barnesandnoble.com.
Rated "M" for "Mature"
A historical and alternate Earth fantasy, Ōoku: The Inner Chambers imagines a world where, in the early 1600s, a strange new disease, called the Redface Pox, suddenly starts killing young men and boys. The male population falls to about one-fourth of the female population and men are protected as precious "seed bearers." Women take on the roles traditionally held by men, including shogun. The series focuses on life at Edo Castle and is set inside its male harem-like Inner Chambers.
In Ōoku: The Inner Chambers, Vol. 4, the story of the young female shogun, Lord Iemitsu, comes to an end. The story of Sir Arikoto Madenokoji, the former friar who became the Senior Chamberlain of the Inner Chambers, continues through the reign of Iemitsu's daughter, Ietsuna, the fourth Tokugawa shogun. Then, the story of her half-sister and successor, Tsunayoshi, begins.
THE LOWDOWN: Not only is Ōoku an excellent character drama and enthralling throne room drama filled with palace intrigue, it is also a wonderful sociological drama. Early in this fourth volume, creator Fumi Yoshinaga, focuses on how the change in gender roles affects even technological advancements.
With women taking on the role of farmer, farming implements that are easier for women to use would have to be developed. There would also have to be tools that would allow women to get more work done faster because of the multiple roles and tasks women take on – such as farming and child care. What do men do? They're protected from hard labor, which might weaken them, so all they do is stud… As I said, Ōoku is an all-around good read.
POSSIBLE AUDIENCE: Readers looking for excellent character drama will find it in Ōoku: The Inner Chambers.
A-
Last Updated: September 6, 2021 - 08:15