Ooku: The Inner Chambers: Volume 3
By Leroy Douresseaux
June 29, 2010 - 14:23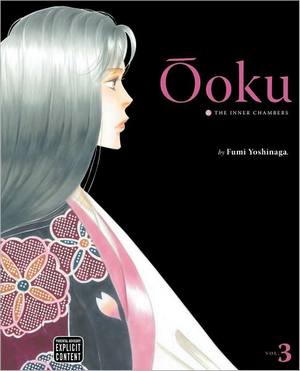 Ooku: The Inner Chambers Volume 3 cover image is courtesy of barnesandnoble.com.
Rated "M" for "Mature"
The historical fantasy, Ōoku: The Inner Chambers, is also alternate-Earth, speculative fiction. It imagines a world where, in the early 1600s, a strange new disease, called the Redface Pox, appears and begins to prey on males, killing mostly young men and boys. After the male population falls to about one-fourth of the female population, women take on the roles traditionally held by men, while men are protected as precious "seed bearers." In fact, a woman is shogun.
Ōoku: The Inner Chambers, Vol.3 continues the story of the young female shogun, Lord Iemitsu. Few people know that Iemitsu is a woman. Her attempts to conceive an heir with the former friar, Sir Arikoto Madenokoji, are unsuccessful. Lady Kasuga, the senior chamberlain of the Inner Chambers of Edo Castle, schemes to find a new man to sire an heir. The Redface Pox continues to rage, while famine takes the countryside. And the Privy Council comes to a shocking decision.
THE LOWDOWN: While the narrative continues to dissect gender roles via court intrigue, Ōoku, with increasing frequency, examines what might happen if women had to become the authority figures, household leaders, and providers for an entire nation if the number of men plummeted and males became an endangered group. Regardless of the concept and scenario, this remains an expertly crafted character drama drawn in creator Fumi Yoshinaga's inimitable graphic storytelling style. It's a drawing style that perfectly depicts human emotion and the inscrutable nature of the human mind in a clean, straightforward style.
POSSIBLE AUDIENCE: Readers looking for excellent character drama will find it in Ōoku: The Inner Chambers.
A-
Last Updated: August 31, 2023 - 08:12