One-Punch Man: Volume 10 manga review
By Leroy Douresseaux
February 5, 2017 - 20:53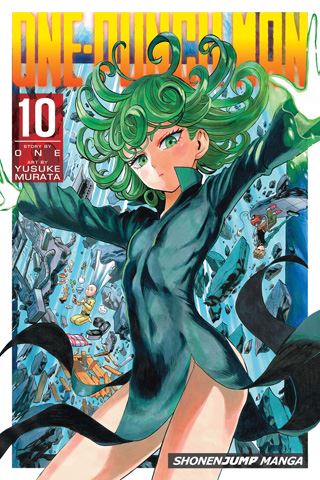 One-Punch Man Volume 10 cover image
Rated "T" for "Teen"
Saitama
begins his training to become a superhero at the age of 22-years-old. He becomes a superhero when he is 25, but he really does not look like one, with his lifeless facial expression, bald head, and unimpressive physique. But he beats the snot out of supervillains with one punch, and he even has his own disciple, the young cyborg,
Genos
(who really needs no training).
As
One-Punch Man

, Vol. 10
(entitled
Pumped Up
; Chapters 48 to 55) opens,
Garo
, the "
Hero Hunter
," continues to stalk superheroes and defeat them. As he moves up in "Class," however, he finds that his reputation has preceded him, and now heroes are waiting for him. Meanwhile, Saitama decides to enter the "Superfight," a combat tournament... under an assumed name, which is a no-no. Also, Class S (the highest class) hero,
Metal Bat
, volunteers to protect an executive of the Hero Association, as Garo is also targeting H.A. Execs. This "Hero Hunter" isn't the only one targeting executives.
[This volume includes the bonus manga stories, "Tornado's Day Off," "Sense," and "Numbers."]
THE LOWDOWN:
What should I say? Regular readers of my reviews know that I love the
One-Punch Man
manga. I still love it, and it is one of the best superhero graphic novels available, although it is officially a shonen manga.
One-Punch Man Volume 10
features what I think is the best adversary to date: Garo a.k.a. "Hero Hunter" a.k.a. "Human Monster." The combination of his arrogance, ego, and martial skills – to say nothing of his striking physical appearance – make him a formidable, even scary troublemaker. I also think that Metal Bat, in spite of the name, is a standout superhero. Yeah, I have to recommend this manga again. It's a super superhero graphic novel.
I READS YOU RECOMMENDS:
Fans of shonen battle manga and superhero comic books will love
One-Punch Man
.
A+
Rating: A+ /10
Last Updated: August 31, 2023 - 08:12