One-Punch Man: Volume 3 manga review
By Leroy Douresseaux
December 25, 2015 - 15:49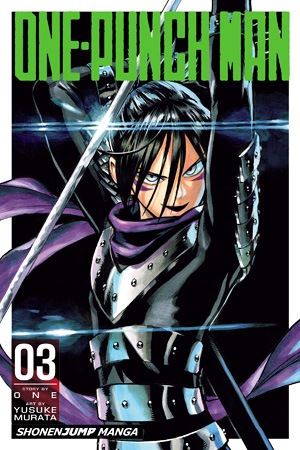 One-Punch Man Volume 3 cover image
Rated "T" for "Teen"
At the age of 22-years-old,
Saitama
started training to become a superhero. Now, 25-years-old, Saitama is a superhero. He simply does not look like a superhero, with his lifeless facial expression, bald head, and unimpressive physique. But he beats the snot out of supervillains with one punch.
One-Punch Man
is the name of the man and the manga.
As
One-Punch Man

, Vol. 3
(entitled
The Rumor
; Chapters 16 to 20) opens, Saitama and the cyborg teen, "
Genos
," visit the
Hero Association
to take the association's exam. If they pass that exam, they will be listed on the Hero Association registry. Later, Genos continues to insist that he be Saitama's disciple, and that means regular sparring sessions. In theory, the super-smart and super-advanced cyborg teen should be able to defeat his master, but...
Around the world, monsters are appearing in cities and causing mass destruction.
City Z
is no exception.. except that the city is more beset by destructive monsters than any other metropolis. Now, the Hero Association has sent two heroes to defeat any monsters they can find. It is as if the world's best heores do not know that City Z is the home of One-Punch Man!
[This volume includes bonus manga, "Summer" and "A New Wind Blows."]
THE LOWDOWN
: Still, the
One-Punch Man
manga is not a fluke. In fact, you can make this discovery yourself, dear readers. Vols. 1-7 of the
One-Punch Man
manga is available to digital manga readers via VIZManga.com and the VIZ MANGA App for the iPad®, iPhone® and iPod® touch, Android-powered smart phones and tablets. Those same volumes can also be purchased through the Nook, Kindle, Kobo, comiXology, iBooks and GooglePlay stores.
One-Punch Man Volume 3
brings joy to this superhero comic book reader's heart. If this title were an American original, people would call it a throwback comic book that recalls the early years of Marvel Comics, if those years were remixed by
MAD Magazine
.
One-Punch Man
does not so much make fun of superheroes as it allows the creators and readers to have fun with the genre.
POSSIBLE AUDIENCE:
Fans of shonen battle manga and also adventurous superhero readers will be knocked out by
One-Punch Man
.
Last Updated: August 31, 2023 - 08:12