One-Punch Man: Volume 2 manga review
By Leroy Douresseaux
September 4, 2015 - 20:48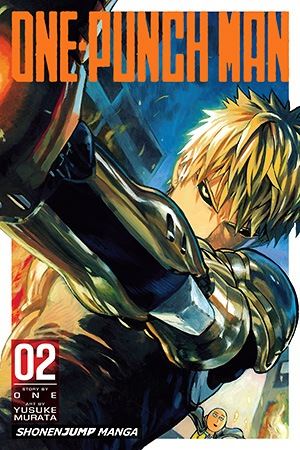 One-Punch Man Volume 2 cover image
Rated "T" for "Teen"
When he was 22-years-old,
Saitama
started training to become a superhero. Now, 25-years-old, Saitama is a superhero. He just does not look like a superhero, with his lifeless facial expression, his bald head, and his unimpressive physique. But he beats the snot out of supervillains with one punch.
One-Punch Man
is the name of the man and the manga.
As
One-Punch Man

, Vol. 2
(entitled
The Secret to Strength
; Chapters 9 to 15) begins, Saitama and the cyborg teen, "
Genos
," take on the
House of Evolution
. This mysterious entity is responsible for the villains that recently battled Saitama and Genos. Kamakyuri, Slugrus, Frog-Man, the Beast King, and
Armored Gorilla
all brought the battle to Saitama and Genos and all were defeated. In fact, Armored Gorilla is the defeated villain who gave up the info on House of Evolution. However, when Saitama and Genos take the battle to House of Evolution,
Carnage Kabuto
will be waiting for them.
What's the secret to Saitama's strength? Many inquiring minds want to know. Also, Saitama realizes that fighting villains for fun has a few drawbacks.
[This volume includes bonus manga.]
THE LOWDOWN:
As far as I'm concerned, the
One-Punch Man
manga is not a fluke. I can make this declaration so soon because VIZ Media is simultaneously publishing the first two volumes of
One-Punch Man
in print editions. In fact, digital manga readers already have access to Vols. 1-7 of the
One-Punch Man
manga via VIZManga.com and the VIZ MANGA App for the iPad®, iPhone® and iPod® touch, Android-powered smart phones and tablets. Those same volumes can also be purchased through the Nook, Kindle, Kobo, comiXology, iBooks and GooglePlay stores.
Anyway,
One-Punch Man Volume 2
continues the out-sized fun of the first volume. This manga could be a text book on how to create humorous superhero comic books without mocking the trappings of superhero comics to the point of derision. The characters, especially the villains, are inventive and wild, and most of them are worthy of making repeat appearances. The fights are... awesome; I don't think another word will do.
One-Punch Manga
first appeared as a webcomic created by the mangaka known as ONE, and it was a huge hit. Japanese manga publisher (and VIZ Media parent company) Shueisha eventually secured the publishing rights to the series and
One-Punch Man
was remade.
Now, the series artist is
Yusuke Murata
(of
Eyeshield 21
fame). I can't imagine that Murata produces the art without assistants. The art and graphic storytelling is so good, so lush and detailed; this is some of the best superhero comic book art, if not the best, published anywhere in the world. Oh, how long until the next volume of
One-Punch Man
?
POSSIBLE AUDIENCE:
Fans of shonen battle manga and also adventurous superhero readers will be knocked out by
One-Punch Man
.
Last Updated: August 31, 2023 - 08:12