One Piece: Volume 72 Advanced manga review
By Leroy Douresseaux
August 30, 2014 - 10:54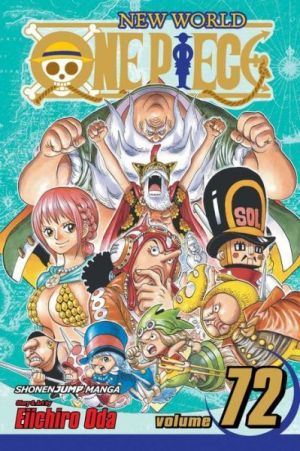 One Piece Volume 72 cover image is courtesy of barnesandnoble.com.
Follow me on
Twitter
.
Rated "T" for "Teen"
Monkey D. Luffy
has dreamed of becoming "King of the Pirates" since he was a child. However, he ate the enchanted "
Devil Fruit
," which gave him the ability to stretch like rubber, but took away his ability to swim. Undeterred, Luffy set out to sea and, in time, became known as "Straw Hat" (because of his straw hat). Gradually enlisting a motley crew, they became known as the "
Straw Hat pirates
." The Straw Hats sail the oceans aboard their ship, the
Thousand Sunny
, searching for the legendary treasure known as "One Piece."
After defeating mad and vile scientist,
Caesar Clown
, the Straw Hats and their ally,
Trafalgar Law
(one of the
Seven Warlords of the Sea
), force a deal with Caesar's master,
Don Quixote Doflamingo
a/k/a Joker. The Straw Hats and Trafalgar Law arrive on the island of
Dressrosa
, Doflamingo's kingdom … now, former kingdom. They divide into three teams to complete their complicated mission, the most dangerous part of which is delivering Caesar to Doflamingo.
Law,
Usopp
, and
Nico Robin
form the "Caesar Delivery Team. They will travel to
Greenbit
, a small island north of Dressrosa, where they will deliver Caesar to Doflamingo.
Tony Tony Chopper
,
Brook
,
Nami
, and guest
Momonosuke
form the "Thousand Sunny Guard Team" to guard the Straw Hats' ship. Finally, Luffy,
Roronoa Zolo
,
Sanji
,
Franky
, and guest
Foxfire Kin'emon
(Momonosuke's father) are the Factory Destruction & Samurai Rescue Team," and they must destroy Doflamingo's "Smile" factory.
As
One Piece

, Vol. 72
(entitled
Dressrosa's Forgotten
; Chapters 712 to 721) opens, plans go awry. The assassin,
Violet
, reveals to Sanji the truth about Doflamingo's current plans. He is NOT abdicating his throne. Meanwhile, the diminutive
Tontattas
think that Usopp is a hero; Franky learns the secret of the toys of Dressrosa; and the Thousand Sunny is under attack by an amazing and crazy artist.
Doflamingo seeks to break-up the Straw Hat/Trafalgar Law alliance. In
Corrida Coliseum
, Luffy takes on
Don Chin Jao
who has an old grudge against Luffy's grandfather, Garp. Meanwhile, revolution begins.
THE LOWDOWN:
I'll say it again, the
One Piece
manga is in the midst of one of the series' best runs.
One Piece Volume 72
is Part 12 of the New World story arc. The last several "parts" of New World have included the breathtaking adventure of Punk Hazard and the adventure on Dressrosa, which is at least equally breathtaking, and may surpass Punk Hazard.
One Piece
creator
Eiichiro Oda
is producing some of the most imaginative comics that I have ever read. Each page of comics is packed with graphical storytelling and data. It is absorbing and mind-blowing without being busy and crowded. I don't know if I can accurately describe what a fantastic read
One Piece
is at this point in its run, other than to say that I consider it a must-read.
POSSIBLE AUDIENCE:
Readers looking for the best of all-ages shonen adventure-fantasy manga will find it in the Shonen Jump title,
One Piece
.
Rating: A+ /10
Last Updated: August 31, 2023 - 08:12