One Piece: Volume 71 manga review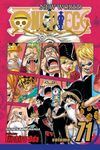 By Leroy Douresseaux
June 17, 2014 - 13:35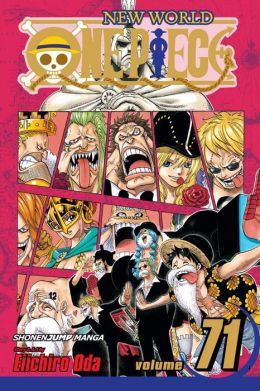 One Piece Volume 71 cover image is courtesy of barnesandnoble.com.
Follow me on Twitter.
Rated "T" for Teen
As a child, Monkey D. Luffy dreamed of becoming "King of the Pirates." The enchanted "Devil Fruit" gave Luffy the ability to stretch like rubber, but took away his ability to swim. Undeterred, Luffy set out to sea and, in time, became known as "Straw Hat" (because of his straw hat). Gradually enlisting a motley crew, they became known as the "Straw Hat pirates." The Straw Hats sail the oceans aboard their ship, the Thousand Sunny, searching for the legendary treasure known as "One Piece."

After defeating mad and vile scientist, Caesar Clown, the Straw Hats and their ally, Trafalgar Law (one of the Seven Warlords of the Sea), force a deal with Caesar's master, Don Quixote Doflamingo a/k/a Joker. As One Piece, Vol. 71 (entitled Coliseum of Scoundrels; Chapters 701 to 711) opens, the Straw Hats and Trafalgar Law arrive on the island of Dressrosa, Doflamingo's kingdom … now, former kingdom. Now, they divide into three teams to complete their complicated mission, the biggest part of which is delivering Caesar to Doflamingo.

Law, Usopp, and Nico Robin form the "Caesar Delivery Team. They will travel to Greenbit, a small island north of Dressrosa, where they will deliver Caesar to Doflamingo. Tony Tony Chopper, Brook, Nami, and guest Momonosuke form the "Thousand Sunny Guard Team" to guard the Straw Hats' ship, the Thousand Sunny. Finally Luffy, Roronoa Zolo, Sanji, Franky, and guest Foxfire Kin'emon (Momonosuke's father) are the Factory Destruction & Samurai Rescue Team," and they must destroy Doflamingo's "Smile" factory.

Things don't go as planned. Luffy ends up in Corrida Coliseum where he discovers a gladiatorial contest. The prize is the Flame-Flame Fruit, the Devil Fruit that belonged to Luffy's beloved and deceased brother, Ace. And Luffy is determined that no one but him wins the fruit.

THE LOWDOWN: As I wrote in a review of the previous graphic novel, Vol. 70, the One Piece manga is in the midst of one of the series' best runs. One Piece Volume 71 is Part 11 of the New World story arc. One Piece creator Eiichiro Oda offered a more than satisfying end to the craziness that was the adventure on Punk Hazard, and he follows it with an adventure on Dressrosa that promises to match, if not surpass Punk Hazard.

Oda is at his inventive best. One Piece has more imagination and inventiveness in one chapter than most American comic books have in a year's worth of issues. Oda is a character invention machine, and he creates strange new worlds, environments, and settings as if he were a deity. One Piece the manga is the kind of comic book that makes reading comic books a most rewarding experience.

POSSIBLE AUDIENCE: Readers looking for the best of all-ages shonen adventure-fantasy manga will find it in the Shonen Jump title, One Piece.



Rating: A+ /10
Last Updated: August 31, 2023 - 08:12