One Piece: Volume 69 manga review
By Leroy Douresseau
December 28, 2013 - 17:28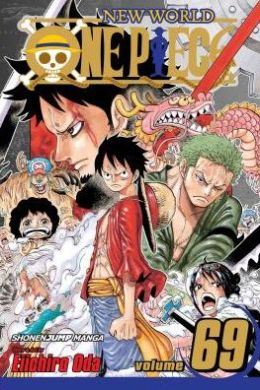 One Piece Volume 69 cover image is courtesy of barnesandnoble.com.
Rated "T" for Teen
The enchanted "Devil Fruit" gave Monkey D. Luffy the ability to stretch like rubber, but took away his ability to swim. Undeterred, Luffy set out to sea in order to fulfill his childhood dream of becoming King of the Pirates, and, in time, became known as "Straw Hat" (because of his straw hat). Luffy gradually enlisted a motley crew and they all became known as the "Straw Hat pirates." The Straw Hats sail the oceans aboard their ship, the Sunny, searching for the legendary treasure known as "One Piece."
After two years of training, the Straw Hat crew reunites and sails for the New World via Fish-Man Island (where they have a great adventure). Their next stop is Punk Hazard, a mysterious island that is half-covered in fire and half in ice. The island is a former government laboratory where a terrible experiment took place. Now, it is ruled by the mad and vile scientist, Caesar Clown.
As One Piece, Vol. 69 (entitled S.A.D.; Chapters 679 to 690) opens, the deadly gas, Land of the Dead, envelopes Punk Hazard. The Straw Hats and new ally, Brownbeard the Pirate, have infiltrated the Third Lab Complex, which is Caesar's lab. To stop them, Caesar has opened the front entrance of the complex to let Land of the Dead seep inside, chasing his adversaries – hopefully (for him) to their death.
The Straw Hats and the allies (some of them temporary) have divided into teams – each with a mission. Usopp, Kin'emon, and Brook search for sea prism stone. Sanji, Tashigi, and G-5 fight Land of the Dead. Zolo, Nami, Chopper, and Robin enter the Biscuits Room to save the children, with the help of one of the children, Mocha. Standing in their way is Monet the snow woman with her devil fruit powers.
Meanwhile, Luffy meets Momonosuke… the dragon.
THE LOWDOWN: The One Piece manga is in the midst of one of the series' best story arcs, thus far. One Piece Volume 69 is Part 9 of the New World story arc, and these chapters set on the island of Punk Hazard show One Piece creator Eiichiro Oda at his inventive best.
The wild action gets wilder, and the imaginative characters and situations are surprising, even to a long time comic book reader like myself. Punk Hazard holds a mirror to our current times, with its themes of government conspiracies, chemical warfare, weapons of mass destruction, etc. Oda gives this fantastic story a poignant turn because he depicts a sad reality of any world – children as the victims of ambitious players on the world stage.
POSSIBLE AUDIENCE: Readers looking for the best of all-ages shonen adventure-fantasy manga will find it in the Shonen Jump title, One Piece.
Rating: A+ /10
Last Updated: August 31, 2023 - 08:12