One Piece: Volume 67 manga review
By Leroy Douresseaux
June 25, 2013 - 16:37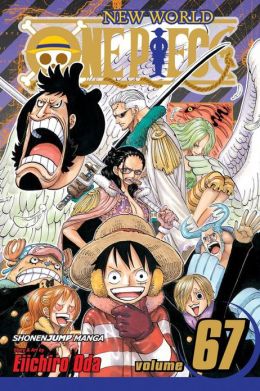 One Piece Volume 67 cover image is courtesy of barnesandnoble.com.
Rated "T" for Teen
After eating the enchanted "Devil Fruit," Monkey D. Luffy gained the ability to stretch like rubber, but lost the ability to swim. Undeterred, Luffy set out to sea and became known as "Straw Hat" (because of his straw hat). Luffy gradually enlisted a motley crew and they all became known as the "Straw Hat pirates." The Straw Hats sail the oceans, searching for the legendary treasure known as "One Piece."
As One Piece, Vol. 67 (entitled Cool Fight; Chapters 657 to 667) opens, the Straw Hats are divided into two groups: Team Luffy with Luffy, Nico, Zolo, and Usopp, and Team Nami with Nami, Chopper, Franky, and Sanji. Where is Brook?
Team Luffy has a guest, a talking pair of legs that Luffy calls "Ashimaro," a samurai who is looking for his son. Lo and behold, Punk Hazard Island has a bunch of children that Team Nami discovers in a place called "the Biscuit Room." Are these children hostages, test subjects, or both? Meanwhile, Vice-Admiral White Chase Smoker arrives just in time to take on Trafalgar Law, Warlord of the Sea. What is Law's connection to the mysterious ruler of Punk Hazard Island, who is known only as "CC?"
THE LOWDOWN: In my review of Vol. 66 of the One Piece manga, I wrote that Punk Hazard seemed like it was going to be especially fun. It is. I am never able to describe everything going on in an individual One Piece graphic novel, and One Piece Volume 67 is packed with so many revelations and amazing new characters. Even longtime readers will be surprised.
I marvel at the imagination of creator Eiichiro Oda, but he doesn't just throw around ideas and images. It all makes sense in the context of the story, and Punk Hazard Island is a wonderland of countless creatures and numerous intrigues. This is why readers always want another piece of One Piece.
POSSIBLE AUDIENCE: Readers looking for all-ages shonen fantasy fun will find it in the Shonen Jump title, One Piece.
Rating: A /10
Last Updated: August 31, 2023 - 08:12