One Piece: Volume 66 manga review
By Leroy Douresseaux
March 23, 2013 - 13:25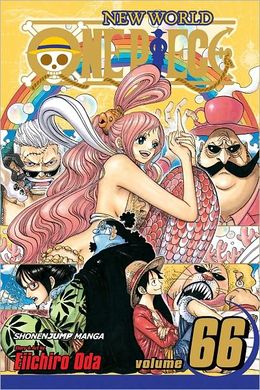 One Piece Volume 66 cover image is courtesy of barnesandnoble.com.
Rated "T" for Teen
Monkey D. Luffy has dreamed of becoming King of the Pirates since he was a child. After eating the enchanted "Devil Fruit," however, Luffy gained the ability to stretch like rubber, but lost the ability to swim. Undeterred, Luffy set out to sea and became known as "Straw Hat" (because of his straw hat). Luffy gradually enlisted a motley crew and they all became known as the "Straw Hat pirates." The Straw Hats sail the oceans, searching for the legendary treasure known as "One Piece."
One Piece, Vol. 66 (entitled The Road Toward the Sun; Chapters 647 to 656) continues the "New World" storyline. They have defeated the Fish-Man Pirates, but the Straw Hats have some tidying up to do. One of the villains is still loose, and he's targeting Shirahoshi, princess of Fish-Man Island. Luffy's sweet tooth also draws the ire of the great pirate, "Big Mom" Charlotte Linlin, one of the Four Emperors.
Then, the Straw Hat pirates are on to new adventures, as they finally step into the New World. What awaits them on Punk Hazard Island?
THE LOWDOWN: Another volume of the One Piece manga, and I'll barely scratch the surface of the content. One would think that creator Eiichiro Oda would take a break between storylines, but his imagination doesn't let up. Oda can take common fantasy and comic book archetypes and creatures: giant humans, dragons, monstrous fish, ocean-going vessels, natural phenomena, and turn them into something new and crazy.
Punk Hazard seems like it's going to be especially fun. Suddenly, I want another piece of One Piece.
POSSIBLE AUDIENCE: Readers looking for all-ages shonen fantasy fun will find it in the Shonen Jump title, One Piece.
Rating: A /10
Last Updated: August 31, 2023 - 08:12