One Piece: Volume 64 manga review
By Leroy Douresseaux
September 20, 2012 - 15:07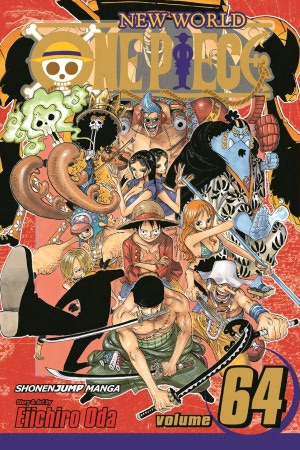 One Piece Volume 64 cover image is courtesy of barnesandnoble.com.
Rated "T" for Teen
Monkey D. Luffy has always dreamed of becoming King of the Pirates. After eating the enchanted "Devil Fruit," however, Luffy gained the ability to stretch like rubber, but lost the ability to swim. Undeterred, Luffy set out to sea, gradually enlisting a motley crew known as the "Straw Hats" (as Luffy is often called "Straw Hat" because he wears a straw hat). Luffy and his crew sail the oceans, searching for the legendary treasure known as "One Piece."
One Piece, Vol. 64 (entitled 100,000 vs. 10) continues the "New World" storyline with the Straw Hats on Fish-Man Island, said to be 30,000 feet below the sea. The Straw Hats have arrived as Hody Jones, Captain of the New Fish-Man Pirates, begins his rebellion against Neptune, King of Fish-Man Island. Now, with King Neptune his prisoner, Hody announces to all of Fish-Man Island the true nature of his plans.
Luffy is ready to fight back, but Jimbei, former Warlord of the Sea, wants to hold back, and that leads to strife between the two friends. Even if they do launch an assault to rescue the king and his daughter, Shirahoshi, princess of Fish-Man Island, it will be Luffy's 10 against Hody's 100,000.
THE LOWDOWN: Usually, my descriptions of the contents of most volumes of the One Piece manga don't even come close to describing the events in the narrative. I'm closer with Volume 64. This time it's pretty simple: One Piece 64 is practically pure battle manga. This is the first time in many volumes that all the Straw Hats can show off their battle prowess and their new powers. Everyone is, for the most part, positive, upbeat, and kicking butt. And creator Eiichiro Oda is still showing off his imagination.
POSSIBLE AUDIENCE: Readers looking for all-ages shonen fantasy fun will find it in One Piece.
Rating: A /10
Last Updated: August 31, 2023 - 08:12