One Piece: Volume 63
By Leroy Douresseaux
August 23, 2012 - 16:54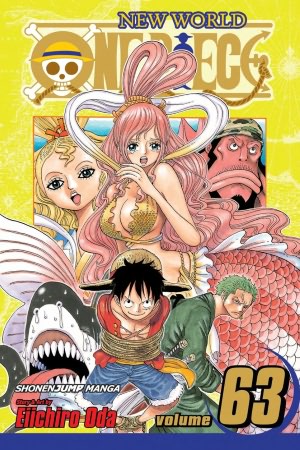 One Piece Volume 63 cover image is courtesy of barnesandnoble.com.
Rated "T" for Teen
Since he was a child, Monkey D. Luffy dreamed of becoming King of the Pirates. After eating the enchanted "Devil Fruit," Luffy gained the ability to stretch like rubber, but lost the ability to swim. Undeterred, Luffy set out to sea, gradually enlisting a motley crew known as the "Straw Hats" (as Luffy is often called "Straw Hat" because he wears a straw hat). Luffy and his crew sail the oceans, searching for the legendary treasure known as "One Piece."
One Piece, Vol. 63 (entitled Otohime and Tiger) continues the "New World" storyline and finds the Straw Hats on Fish-Man Island, said to be 30,000 feet below the sea. Luffy and Shirahoshi, princess of Fish-Man Island, have escaped Ryugu Castle. Vander Decken IX, Captain of the Flying Pirates, continues to search for Shirahoshi. He wants to marry her or, failing to marry Shirahoshi, kill her. Meanwhile, Hody Jones, Captain of the New Fish-Man Pirates, continues to lead his rebellion against Neptune, King of Fish-Man Island.
Half of this volume goes back in time, as told by Jimbei, former Warlord of the Sea. His story of Fisher-Tiger, Captain of the Sun Pirates, and of Queen Otohime, Shirahoshi's mother, explains why things in the present are the way they are.
THE LOWDOWN: As usual, my description of the contents of the latest One Piece manga seems inadequate. Of course, I tend to exaggerate, but this is no exaggeration. There is enough material in One Piece, Vol. 63 to create a separate shonen manga pirate adventure that could easily run 5+ volumes. But that's One Piece. It is a shonen sensory overload with creator Eiichiro Oda's imagination going at full throttle. A reader certainly cannot say that he hasn't gotten his money's worth. This makes Walt Disney's Pirates of the Caribbean films seem conservative on all production fronts.
POSSIBLE AUDIENCE: Readers looking for all-ages shonen fantasy fun will find it in One Piece.
Rating: A- /10
Last Updated: January 24, 2022 - 11:00