One Piece: Volume 62
By Leroy Douresseaux
May 6, 2012 - 13:04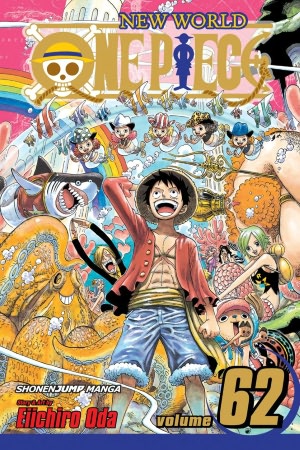 One Piece Volume 62 cover image
Rated "T" for Teen
From the time he was a child, Monkey D. Luffy dreamed of becoming King of the Pirates. After eating the enchanted "Devil Fruit," Luffy gained the ability to stretch like rubber, but lost the ability to swim. Undeterred, Luffy set out to sea, gradually enlisting a motley crew known as the "Straw Hats" (as Luffy is often called "Straw Hat" because he wears a straw hat). Luffy and his crew sail the oceans, searching for the legendary treasure known as "One Piece."
As One Piece, Vol. 62 (entitled Adventure on Fish-Man Island) opens, the Straw Hats journey to the New World continues. With their ship, "Sunny," surrounded by a bubble, they sail deep beneath the ocean's surface as they head for Fish-Man Island. However, they are already being chased by rival pirates led by Wet-Haired Caribou, but their battle will be put on hold when both crews must face the legendary Kraken.
THE LOWDOWN: My description of the contents of the latest One Piece manga only scratches the ball of action that is the first five (of 11) chapters in Volume 62. One Piece creator Eiichiro Oda puts more action in a single chapter than most American comic books offer in a 12-issue run. The second half of this volume introduces so many new characters, situations, and sub-plots that I felt overwhelmed reading it. One Piece is crammed with stuff. It is truly an adventure comic book that will never let your mind rest, and you won't ever be bored.
POSSIBLE AUDIENCE: Readers looking for all-ages shonen fantasy fun will find it in One Piece.
A-
Last Updated: August 31, 2023 - 08:12